Bucs Draft Injured Linebacker To Close Round 3
April 28th, 2017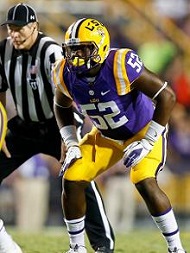 Meet Kendell Beckwith.
He's still recovering from a torn ACL at Louisiana State University. The Bucs traded up with the Jets to get him. (Joe's confirming what the Bucs gave up.)
From NFL.com.
STRENGTHS

Big throwback frame with ability to bang between the tackles. Has experience in the middle with both 3-4 and 4-3 schemes. Takes well-reasoned paths to the ball. Won't get caught rushing downhill without a plan. Will down into guards as pre-emptive strike before they combo up to him. Maintains his run fits and leverages his gap with an aggressive forearm shiver to short-pulling guards and isolation blockers. Hands are quick with some shock. Can unlock a surprising closing burst to close out on the perimeter. Eyes are disciplined. Good read and respond but plays the game with patience. Body control a plus. Won't always be pretty but he gets guys tackled. Awareness in space and overall football IQ is above average. Able to find receivers working through his coverage area. Reads quarterback's eyes helping him drift toward targets.
Lavonte David spoke recently about the starting strongside linebacker battle between Devonte Bond and Adarius Glanton. That turned Joe's stomach a bit, so Joe is very happy to have Beckwith in the mix.