Would The Raiders Trade For Doug Martin?
March 20th, 2017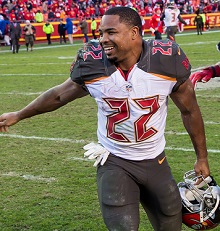 Does Joe expect Doug Martin to run the football for the Buccaneers this season? Of course not.
Joe is no fool, and neither is Dirk Koetter or Jason Licht.
And this is why Joe is thinking about Martin's next team and whether the Bucs could find a trade partner.
Injured three out of the past four seasons, saddled with a three-game suspension to start 2017, and struggling again with a drug problem, Martin is not someone to count on.
It's time for the Bucs to take any crumbs they might be able to get for him.
Considering Tampa Bay has other guys to run the ball and is in prime position to snag a running back in the first two days of the NFL Draft, Martin has no business on the roster. So why play games?
The Raiders are an interesting possibility. Oakland is in serious win-now mode after a 12-win season, and because the final year of quarterback Derek Carr's ridiculously inexpensive contract is finally here.
That's the force driving rumors linking Oakland to retired Marshawn Lynch and old and unwanted Adrian Peterson.
Hey, if they're hunting running backs with big names and question marks, then why not Martin?
It's reasonable to think Jason Licht might be able to swing a trade that would net a conditional draft pick from Oakland. Martin is from the Oakland area, still has lots of family there and he had a phenomenal game against the Raiders in Oakland in 2012.
The Raiders, conceivably, could trade for Martin and then renegotiate his contract if they like what they see in spring practices — and the results of his urine tests.
So many Bucs fans still believe Doug Martin is a superstar. Joe doesn't, but perhaps there's one GM who does?