Bucs Prove Fool-Around Days Are Over
March 20th, 2017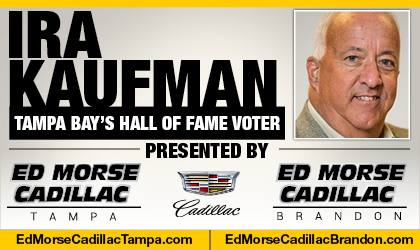 BY IRA KAUFMAN
There's a great scene near the end of "North Dallas Forty" when the John Matuszak character confronts an assistant coach in the locker room.
"Every time I call it a game, you call it a business, and every time I call it a business, you call it a game," Matuszak screams as teammates look on in shock and admiration.
Roberto Aguayo just learned the business side of the game.
With the signing of veteran kicker Nick Folk, the Bucs just showed their growing fan base they aren't fooling around.
This isn't 2009, when Aguayo's draft status would have ensured him another year on the roster. Remember, that was the year new GM Mark Dominik decided to hand receiver Michael Clayton a 5-year deal with $10.5 million in guaranteed money… despite Clayton's four consecutive lousy seasons.
Those days are over. Finis. Adios.
Winning Vs. Rebuilding
The business of the Bucs right now is winning. That's the cycle they're in with a young, talented roster after a 9-7 finish that has Buc fans on the edge of their expensive club seats.
Tampa Bay was able to bring in compelling competition for Aguayo because the business of the Jets is rebuilding. New York just cut seven players to free up $46 million, with Folk being swept up in the purge.
"I get it," Folk says of New York's fire sale. "At the end of the day this is a business and sometimes you're on the wrong end of the business part of it. This was my second team, but there's not too many guys who play for one or two teams anymore. Everybody moves around. It'll be a fun new adventure."
The fun starts in August, when every fan sweating at One Buc Place will keep a chart on Aguayo and Folk. Forget the battles at safety and center — splitting the uprights will be must-see theater.
Folk has a good track record, but we're not talking about Adam Vinatieri here. He missed two extra points last season and the season opener against Cincinnati was a disaster. He shanked a PAT and had a chip-shot field goal blocked in a 23-22 loss at wind-swept MetLife Stadium.
The point is Aguayo will have every chance to atone for a dismal rookie season, when he made only 22-of-31 field goal attempts. Led by Jason Licht, the man who traded up to draft him, Buc management would be thrilled if Aguayo regains the dependable form he demonstrated at Florida State.
If both kickers perform about the same, Aguayo figures to get the nod when rosters are cut before the season opener. But he's going to have to earn the trust of Dirk Koetter and the Glazers, who aren't interested in taking a leap of faith on a struggling kicker.
"As far as the investment in Roberto and where we picked him, we were all on board with that and that's not going to change," Koetter says. "We're never going to bring that back, that happened. And Roberto was our kicker and like any other player, if he's got that Buc jersey on and he's out there on game day, then I'm 100 percent in.
"With that said, our field goal percentage of this year is not good enough. Now, that's not only stat that's not good enough, but that wasn't good enough. Jason and I have already talked and I think it's already proven that we have no problem moving on from a draft choice. We've got to have competition at every position, nothing's a given and if they're not the best player than I can be pretty certain in saying that they won't be out there."
Full Fan Attention
If Folk looks like the better kicker, Licht will take a deep breath and acknowledge a draft-day mistake. He hasn't made a lot of them and the Bucs have come a long way in his three years running football operations.
Koetter and his staff will shape the final roster, and that's the way it should be. Even if Aguayo is released, Licht has built up enough capital with the Glazers to survive — if the Bucs continue to improve.
Aguayo didn't miss any last-minute field goals in 2016 that cost the Bucs a victory, but he certainly didn't inspire confidence. Folk brings experience and a career FG percentage of 81.3.
If Koetter schedules a special teams practice during training camp that is closed to the public, Buc fans might storm the gates. Aguayo vs. Folk is shaping up as a kick-ass fight to the finish.
It's not personal, Roberto. It's strictly business.