Is Mike Glennon Poised To Embarrass Lovie?
March 5th, 2017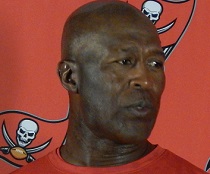 Joe has often written that nobody writes a soap opera like the Buccaneers franchise.
From cutting superstars in their primes to The MRSA, to TV blackouts and billboards calling for a coach's head — to signing Josh McCown as a starter, to going 10-6 and then deciding there was no need to sprinkle in a few veterans in free agency the following offseason — and that's just a tiny, tiny handful of examples.
Enter today's lunacy, reports from Jason La Canfora of CBS Sports that the Bears are gearing up to pay Mike Glennon $12 million per season and give him their starting job later this week.
Hey, Bears head coach John Fox found his way to the playoffs with Tim Tebow in Denver — and a playoff victory! — so Joe supposes Fox sees roses or Jake Delhomme when he watches film of Glennon.
What makes a Glennon-to-Chicago move very intriguing is that down the road at the University of Illinois is college head coach, Lovie Smith.
Remember Lovie? Twice he benched Glennon, and he was fired by the Bears four years ago.
When Lovie took over the Bucs in 2014, he signed and named McCown the Bucs' starting QB in a hurry, stripping Glennon of his job. Then McCown was awful and got hurt. Glennon replaced him, and despite winning in Pittsburgh and having a huge day in New Orleans, Lovie pulled the plug and finished a 2-14 season with McCown.
If Glennon goes to Chicago and succeeds, then it will shine a humiliating light on Lovie in his new/old home town, where Lovie's new team is struggling.
Three weeks ago on national radio, Joe shared that ex-Bears QB and announcer Jim Miller said the Bears should sign Glennon and draft a defensive end. Joe took that as the level-headed Miller revealing inside info. So none of this is a big surprise.
It's just stunning to Joe that any team would evaluate Glennon and believe he's their best option to win a Super Bowl one day.
Yes, the Bears play at the Stadium on Dale Mabry Highway this season.
Of course they do!