Jason Licht, Team Glazer & "That Quick Feel-Good"
March 6th, 2017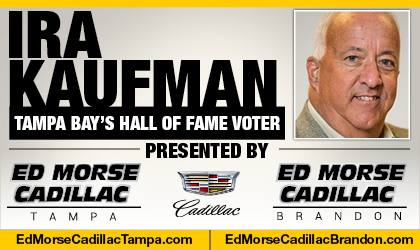 BY IRA KAUFMAN
He won't be celebrating his team's next victory for at least six months, yet here stands Jason Licht, ready to jump once again into the deep end of the pool.
This time, for keeps.
On the brink of free agency, Tampa Bay's 46-year-old GM finds his team loaded with needs and enough cap space to fill the five-story glass and steel football that welcomes visitors to One Buc Place.
While many Buc fans are eager to break open the bank for DeSean Jackson, Calais Campbell and Tony Jefferson, Licht realizes the next few weeks will go a long way in determining his professional future.
Licht has already proven himself as a shrewd judge of talent in the draft, but the Glazers aren't exactly overwhelmed by his acumen in free agency. The temptation to spend lavishly will be tough to resist, especially for a 9-7 team on the rise, but Licht is also well aware that ownership is on record saying that the most active teams in March rarely make much noise in January.
"Free agency can be almost like a drug,'' Joel Glazer once told me. "You look for that quick hit, that quick feel-good. I know teams that year in and year out are the Super Bowl champions of free agency, and amazingly enough, it doesn't seem to happen for them during the season. If you can resist the urge for about six weeks, you're often better off."
When Licht was hired in 2014, he was given a four-year deal with a fifth-year option. The Glazers will soon have to decide whether Licht and his personnel staff have the right stuff to transform the Bucs into a perennial NFL power.
The 2014 free agent debacle weighs heavily on Licht's mind. He barely had time to unpack his bags before he and Lovie Smith were faced with their first real test.
Any grade other than "F" is being too kind.
Empowered Or Paralyzed?
In came Josh McCown, Anthony Collins, Michael Johnson and Alterraun Verner. None of those gentlemen will suit up for the 2017 Bucs and Collins can't even find a job in the league as a backup.
"That was not the way," Licht says of the 2014 free-agent spree. "I was never around an organization that did it that way, but I did it and I accept responsibility for it. It just took me back to what my core values and beliefs are regarding free agency — you can't buy a championship, you've got to build one."
Although Licht needs to learn from history, he can't be paralyzed by past mistakes. Some of those misfires came courtesy of Smith, who spent much of 2013 in his Chicago basement — evaluating talent and getting it wrong.
There are players available later this week who can help the Bucs immediately, so the Glazers need to learn from their mistakes as well.
In 2011, coming off a 10-6 season, the Glazers bought into the hype and overestimated Tampa Bay's talent level. Mark Dominik's big move that March was signing punter Michael Koenen.
Memo to Licht … you don't need a punter.
Buc fans will be enraged if Licht doesn't land at least a few free agents of note. But there's a happy medium between going hog wild and staying pat.
That is the comfort zone Licht wants to be in heading into the draft.
Luxury Models
If Licht is feeling the heat, he's not letting it show. He looked confident and poised during his Combine chat with the media last week and he has the backing of the Glazers.
Until he doesn't.
"I love pressure," Licht says. "My entire life, since I grew up as a kid, I've been through a lot of pressure situations. I have great parents, a great foundation. Been through tough times growing up. The more pressure, the better, so bring it on."
Nobody has to tell Licht and his staff the importance of the next few weeks. Adding the right free agents can be critical in terms of shaping your draft board. It can also be the difference between a rookie having to start right away or having the luxury to learn behind a veteran.
And let's not downplay the chemistry factor.
Yes, DeSean Jackson is a big-play target, but he is also known to be a high-maintenance player. The Bucs like the camaraderie in their locker room right now and Licht knows in hindsight that Anthony Collins flunked the character test.
He wasn't a team player, so now he's not a player for any team.
"In free agency, it's buyer beware,'' Glazer said. "Sometimes you have to resist that instant gratification because while you'll feel good at that moment and you got that headline, you pay some consequences.''
Fasten your seat belts, Buc fans, it's going to be a bumpy ride.