Tales From The Combine
March 6th, 2017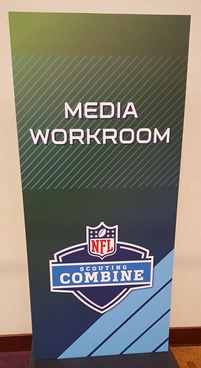 Notes from five days in Indianapolis at the NFL Combine.
Please don't get jaded, John Lynch. Most general managers, the longer they are in office, the more secretive and standoffish or loner-ish they get. The worst/best offender is Bruce Almighty, who is about as dark and secretive and misleading and untrustworthy and distant as they come. On the surface, the 49ers couldn't have found a better face of the franchise to lead their front office. Lynch is smart, friendly, thoughtful and helpful without giving away state secrets.
Ted Thompson Comedy Tour: Speaking of general managers, there may be none Joe respects more than Thompson, who by nature is a strange cat. Not a bad guy, just quiet. He doesn't speak much to begin with, much less publicly. But when he takes the podium annually, it's like a stand-up act each year. Last week, he joked often about his free agent spending sprees. Hint: Thompson often treats free agency like spoiled milk. Thompson's dry sarcasm and twinkle is his eye while delivering the one-liners is always a treat.
The first day of players' media availability blew up, especially for a guy like Joe who covers the Bucs. (Joe might just have to start calling this event "media availability" because Joe sure as hell doesn't fly halfway across the country to spend a week in the Midwest in the dead of winter to watch a useless exercise of dudes in a glorified indoor track meet/reality TV show that has zero to do with football.) First, South Florida running back Marlon Mack said the Bucs have spoken to him "a lot." But things really got flying when arguably the top-rated running back in the country said before a large gaggle of media that his dream come true would be to reunite in Tampa with America's Quarterback, Pro Bowler Jameis Winston. Man, that sent the Indiana Convention Center abuzz. Joe wrote this before, but when is the last time you heard a top-shelf prospect openly pining to play for the Bucs? Times are a-changin.'
Speaking of Jameis, Joe had a talented national NFL writer tell him that the brouhaha over Jameis' slip up at an elementary school recently was hilariously overblown, sadly for Jameis. The writer told Joe, "What Jameis said would probably be the 17th-worst thing heard at a GOP rally. So you are going to burn all of your powder on that for a story?"
Take this for what it's worth, and maybe it is not much, but a few of the top-rated receivers Joe spoke to Friday had little to no contact with the Bucs. This does not include Mike Williams, who Joe knows the Bucs like but they have zero expectation of ever drafting him. This just in: Everyone Joe talked to remotely affiliated with an NFL team is impressed with Williams. One NFL type told Joe Williams is "the next Mike Evans."
Cool part of the Combine in Indianapolis is that after hours, it is difficult not to run into NFL types at watering holes and eateries downtown. The Indianapolis downtown is compact with loads of stuff to do in a small area. It's way cool. Therefore, talking to NFL folks in casual settings is easy to do. Some folks just go there to see who they run into. For example, on Friday night, Joe wound up at Hooters – imagine! Joe recognized Wade Phillips at a nearby table with a bunch of fellow Rams coaches. Now Joe didn't notice if Phillips was drinking or not and doesn't care. Rather than gawk at Phillips like a Rachel Watson poster, Joe had something else to stare at on the other side of the bar pouring Joe beer. Joe was impressed that Phillips, pushing 70, hung past midnight.
Cris Collinsworth of NBC and the owner of the PFF tribe apparently, at 58, is still something of a darling for the young lasses. In a watering hole Thursday night, whenever Collinsworth walked by, young ladies near Joe followed him with adoring eyes and they didn't exactly try to hide their excitement for the former Pro Bowl receiver.
Joe was invited to have a beer or two Saturday night with a handful of NFL writers, which included an Indianapolis-based writer who mostly covers baseball but whose forte is medical-based stories. He works a lot with the medical portion of the Combine. He also works closely with the Indianapolis medical community, and if you ask NFL general managers, many suggest the most important element of the Combine is the thorough medical exams for players. Anyway, said writer believes in two years, the Combine will move to Los Angeles at the Rams' new complex being built and eventually will be there full-time. From an inside-football perspective, this is a very sad development, if true.
This was the first year fans were allowed in. Joe noticed NFL personnel folks got bent because some guys doing a bench press got heckled. C'mon! Better toughen up buttercup. Football ain't golf. These guys are used to playing before many tens of thousands of fans on weekends. If they can't handle two or three slobs hollering at them pumping weights, then how in the heck will they handle an NFL game? Meanwhile, an announcement was regularly blurted each day, "[Pick a position] players will now do the bench press. Fans, come watch and encourage the players." Guessing some stopwatch-wearing geezer didn't get the memo from the NFL. At any rate, the bench press area had bleachers set up for fans and the reaction from the crowd sort of reminded Joe of a high school wrestling tournament. Sometimes the crowd was so loud, Joe could barely hear the player he was interviewing.
No front office type pulls a crowd like John Elway. The shotcaller of the Broncos easily drew the largest throng of reporters when he took the podium. Not too many general managers have Elway's resumé: Hall of Fame quarterback and Super Bowl-winning executive.
Greatest story heard from a player? Came from DeMarcus Walker, defensive end at Florida State. He was talking about growing up the second-oldest of four brothers. The quartet was tight, he said, and he also noted the four were not above mischief. Asked about the dirtiest prank they ever pulled, he said they lit a firecracker inside the house — on his dad's white carpet. Walker said it didn't exactly go over very well with his hulking, weight-lifting father. What was truly ornery? The three older brothers fingered the youngest for the crime.
Two quick thoughts from private, yet on-the-record chats with Bucs AC/DC-loving general manager Jason Licht and winning Bucs coach Dirk Koetter: Licht said many believe a zero state income-tax state like Florida is an advantage in luring free agents but he said that's overblown. Licht said agents always find an angle to counter that. … Koetter said he has never seen a draft so deep at running back, but cautioned the belief that a stud, All Pro, every-down running back a team can lean on for eight years can be plucked in the fifth round is very naïve. In so many words, Koetter said if that theory was true, every team would have a guy like that taken late in the draft.
An afterthought: the Big Ten held its women's basketball tournament over the weekend at BankersLife Field House, home of the Pacers, which is also located in downtown Indianapolis. The Maryland team was housed in Joe's hotel (still weird referring to Maryland as a B1G school). Anyway, you'd think this would be a big deal for Indianapolis, right? Even the Big Ten flag flew over Indianapolis' tallest building to celebrate the event. Few areas of the country are addicted to hoops as Indiana. Well, at a watering hole Friday, Joe stopped at for dinner, roughly five blocks from the arena. There were six TVs with NFL Network showing the Combine, three on a BSPN channel of some sort, and just one on the Big Ten Network showing the women's tournament.
Food and beer: What a dastardly move, Primanti Bros., for you to put a shop in the very heart of downtown Indianapolis. You trying to give Joe a heart attack? Of course Joe wolfed down a Primantis! #FGU … Shapiro's Deli is pretty good, just as it is billed. Pastrami is top shelf, but it ain't Katz. … Joe is not a craft beer guy but Osiris Pale Ale from Sun King Brewing gets the job done. "The RAM" in Indianapolis is one of Joe's favorite spots in the town. But damn, RAM, Joe doesn't care how good you claim your craft beer is, there is no way in hell Joe is going to drink anything called "Buttface." Nothing connecting anything liquid and a man's rear end sounds remotely appealing in any way. In fact, it sounds truly disgusting. This just reinforces Joe's notion of 80 percent of the craft beers out there: One could urinate in a bottle, slap a weird label on it, and folks think it is good just because it is expensive and not Miller Lite. What next, a beer called "Frontal Junk?"