Jason Licht Talks Mike Evans' Reaction, Contract
March 13th, 2017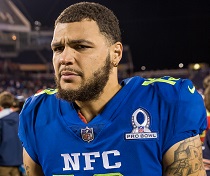 Yes, DeSean Jackson is the Bucs' new big-money receiver, the spike in the punch of Tampa Bay's offense.
But the beast in the huddle, the No. 1 target, is still Mike Evans.
Evans is paid a lot less than Jackson, but he doesn't care. That was the message from general manager Jason Licht on Saturday after announcing the signing of Jackson, who will earn $12.5 million this season.
"Mike Evans was the first one to reach out to me, one of the first to reach out to me [after signing DeSean] and congratulate us, Licht said. "He told me that he couldn't be happier. And I said, 'You know, Mike, your day is coming. It's coming.' And he said, 'I'm not even thinking about.' He said, 'All I'm thinking about is winning a championship and this is going to help us.'"
The Bucs have a May deadline to exercise the team-held, fifth-year option on Evans' rookie contract.
Joe specifically asked Licht if his plan was to exercise that option (which would pay Evans around $14 million in 2018) and then go from there in the process to eventually re-sign Evans.
"We have until May, but I mean, Mike Evans, hopefully, is going to be here for a very long time, for life, hopefully," Licht said.
Joe sees no rush to re-sign Evans. What's the hurry? Exercise the fifth-year option and get a new deal done next winter if Evans is healthy and thriving.
Evans great attitude is no surprise. As Evans told Joe at the Pro Bowl, 'If you know football, then you understand.'