Heavy Lifting Still Ahead
March 13th, 2017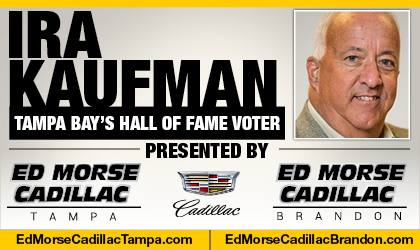 BY IRA KAUFMAN
Let us pause amid the fanfare and acknowledge there is more work to be done.
Quite a bit, if you ask me.
The Bucs are off to a good start in free agency, addressing their pressing need for a big-play wide receiver, adding depth in the interior defensive line and increasing competition at safety.
The failure to land Calais Campbell remains a 6-foot-8 bummer, but Chris Baker is a nice fallback at defensive tackle and I expect him to displace Clinton McDonald as a starter.
Jameis Winston was all in on DeSean Jackson from the start, and as we are learning, what Jameis wants, Jameis gets. If the Bucs proceed with that indoor practice facility we've heard about for awhile, then it will be because No. 3 pushes for it.
Speaking of Mr. Winston, it would be nice if the Bucs add a veteran quarterback to back him up. Scratch Nick Foles off your list and pardon me if I don't do cartwheels about Chase Daniel, who has thrown exactly one touchdown pass in his seven-year NFL career.
Winston has taken virtually every snap in the past two years and the departure of Mike Glennon could be costly in 2017 if Winston is sidelined.
Urgency For 1st & 4th Downs
And now on to the kicker position, where Roberto Aguayo has been put on notice. A 9-7 team that just added a weapon of Jackson's caliber isn't going to show much patience with a struggling kicker, regardless of Aguayo's college pedigree or draft status.
Dirk Koetter and the Glazers will be watching Aguayo closely in training camp. So will Tampa Bay fans, who had little confidence in Aguayo after his early-season struggles.
Running back is another issue to be addressed, even as Jason Licht suggests things aren't as bad as they seem.
Bringing Jacquizz Rodgers back was a smart move and I still believe in Charles Sims as a No. 2, but the Doug Martin situation is a headache the Bucs didn't need.
I think Martin is out, creating a major void. Peyton Barber has potential, but he rushed for more than 38 yards only once last year and Rodgers isn't built to carry the load.
The draft is deep at running back, but the Bucs are now forced to address the position with a premium pick. The NFL may be a passing league, but Tampa Bay's poor run game last season set this offense back significantly.
Rice-A-Roni
An offensive line that struggled to open holes could use an upgrade. A starting five of Donovan Smith, Kevin Pamphile, Ali Marpet, J.R. Sweezy and Demar Dotson doesn't exactly evoke comparisons to the front wall of the Cowboys.
If the Bucs can get center Nick Mangold at a fair price for two years, I say make the deal and give Winston the benefit of a nasty leader at the point of attack.
This defense is still looking for its first double-digit sacker since Simeon Rice left town a decade ago — and I'm not sure this year will be any different. Noah Spence showed promise as a rookie defensive end, but he is still learning how to be a pro.
The Bucs can crow about all their depth along the defensive line, but I'm still not sure they have a pass rusher that will keep Drew Brees, Matt Ryan and Cam Newton up at night.
There might be a spot open at strong-side linebacker, but that hasn't been an impact position for the Bucs in the past 20 years.
No big deal.
At corner, there is the potential for a big drop off beyond Brent Grimes and Vernon Hargreaves. Alterraun Verner wasn't the answer and Ryan Smith will now be given every chance to make a successful transition from safety.
Don't be surprised if the Bucs add a veteran corner toward the end of August, when teams scramble to adjust their rosters.
So far, so good for the Bucs, but Jason Licht is nobody's fool. There's heavy lifting to be done before the Bucs take the field this fall, determined to live up to all of your lofty expectations.