Do Bucs Want The Other Oklahoma RB?
March 13th, 2017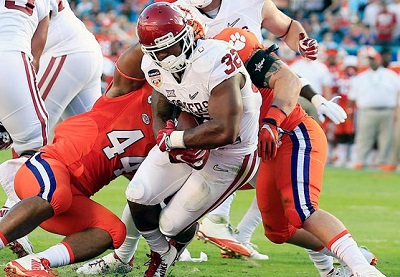 Joe had to laugh about recent chatter tying Gerald McCoy showing up for the University of Oklahoma pro day to meaning he was there to scout evildoer, woman-hitter running back Joe Mixon.
There was no evidence of that whatsoever. McCoy has loads of family living near his beloved university, where he has stayed close to the program, even recruiting for them.
Regarding Mixon, Joe is all for second chances, but those second chances for certain dudes look a lot better in other cities. For example, Joe was totally against the Bucs signing — and re-signing! — noted sleaze tight end Jerramy Stevens.
In a draft class allegedly historically deep at running back, drafting a guy like Mixon feels like a needless risk.
And that brings Joe to the Oklahoma running back nobody talks much about: Samaje Perine.
Perine is a bruising beast at 5-11, 233 pounds, a guy who breaks tackles, runs with authority and stood out as a strongman freak at the NFL Scouting combine.
Consider this nugget in a scouting report by NFL.com film guru Lance Zierlein.
"Creates for himself with power. Arm tacklers won't like the results. Drives through initial contact and continues to churn out additional yardage. Pad level is always where it is supposed to be. Delivers a message when he finishes runs. Short yardage winner and doesn't have much wasted motion as a runner. Decisive in his downhill charge but does so with quality vision."
More important, Perine has produced — big time.
The young man averaged 6.0 yards per carry in college through 685 carries in three seasons. And 49 rushing touchdowns has a nice ring to it. He is Oklahoma's all-time leading rusher.
Perine missed a few midseason games last year with a pulled leg muscle, but he came back to finish strong, including 17 carries for 86 yards and a touchdown against Auburn in the Sugar Bowl.
Perine is widely projected as a fourth-round pick.
Is he the right fit for the Bucs? Could he pound in between the tackles and wear down defenses while being complemented by Charles Sims, Jacquizz Rodgers and Peyton Barber?
Joe has no clue, but don't be stunned if the Bucs wait to draft a running back in the middle rounds.