Jason Licht Appears To Tip Draft Hand In Radio Interview
March 1st, 2017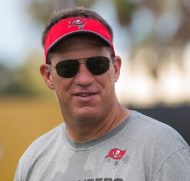 Wake up the read-between-the-lines crowd.
General manager Jason Licht threw a lot of meat on your grill this morning.
Licht was a guest on SiriusXM NFL Radio and was asked, "What's it going to take to get Tampa over the hump and win that division?"
Here's is Licht's verbatim response:
"Well, we're going to have to keep adding layers to our foundation of young players. We're going to have to get playmakers, more playmakers, and we're going to have to get after those quarterbacks. So, you know, fortunately, we have a little bit of time right now. We have the draft coming up. We've got free agency. We've got some avenues that we can use. We have a tremendous staff, both coaching and scouts, and we've done pretty good in the draft, and we're going to continue to do that. But we're going to have to get after those quarterbacks."
Hmmm, twice — twice! — Licht mentioned "getting after those quarterbacks." No mention of safeties or pass protection or kickers or running back riddles.
Interesting response.
If the Bucs land DeSean Jackson in free agency and re-sign dedicated run stuffer Will Gholston, perhaps they do go pass rusher in the draft, such as Charles Harris or Malik McDowell with the No. 19 overall pick.
Or maybe, just maybe, this was Licht giving a more of a nod to pursuing barbarian 6-8, 300-pound veteran Pro Bowl defensive lineman Calais Campbell in free agency next week?