Tagging Malik McDowell In Round 1
February 24th, 2017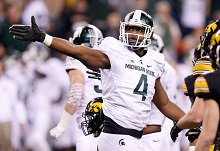 Just how much does general manager Jason Licht desire a devastating pass rush in the quarterback-laden NFC South?
It's a legitimate question as Bucs fans run shirtless around town pounding their chests and yelling #WeaponsForWinston.
And don't forget Dirk Koetter grabbing a metaphorical bullhorn and screaming for speed on offense.
Maybe it is all about surrounding America's Quarterback, Jameis Winston with dangerous players. Look at the Falcons making the Super Bowl. But logic says a beastly pass rush is critical to becoming a lasting contender.
The Bucs own the No. 19 overall pick, and NFL.com college film guru Lance Zierlein is cranking out mock drafts this year. Joe has loads of respect for Zierlein, so Joe was intrigued by his latest.
Zierlein picks a beastly defensive tackle for the Bucs in the first round with nearly every top offensive weapon already off the board, except for receiver Corey Davis of Western Michigan.
Malik McDowell – DT, Michigan State: McDowell has Pro Bowl potential, but there is some bust potential as well. He often played on the nose at MSU but can play anywhere along the defensive line.
Just 20 years old — TWENTY! — McDowell stands 6-6, 276 pounds and he can do it all and dominate, but he's very raw. He's a wild card. The Lansing State Journal published a neat look did at McDowell showing the range of opinions about him.
Licht is fearless in the draft, as Bucs fans know well — the great and the bad.
This time of year, Licht is known to quote his friend Bruce Arians, "No risk it, no biscuit." So Joe wouldn't be stunned if Licht drafted a guy like McDowell.
Licht easily could see team-first, mentor-type old veterans like Gerald McCoy, Clinton McDonald and Robert Ayers on his D-line and believe he has the perfect incubator for a young talent like McDowell. Throw in veteran D-line coach Jay Hayes and tireless worker Noah Spence, and McDowell might become more attractive if he shines on and off the field at next week's NFL Scouting Combine.