The Bucs & Andre Holmes
March 17th, 2017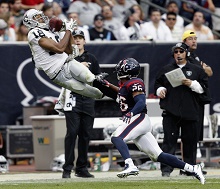 Five weeks ago, Joe was blowing a trumpet for the Bucs to consider wide receiver Andre Holmes in free agency.
He seemed like a great fit, and now he seems even better.
While nobody at JoeBucsFan.com world headquarters is crying about the loss of Russell Shepard to the Panthers in free agency, it's still a loss. Why? Because he had value and Dirk Koetter wanted him here.
Yes, Shepard is a better receiver than Josh Huff, Freddie Martino, etc., and he was a special teams ace.
Holmes, who remains on the street in free agency, was buried in Oakland's deep receiving corps behind Michael Crabtree and Amari Cooper in the Raiders' high-octane offense.
Undrafted in 2011, Holmes turns 29 in June, and he's caught a total of 75 balls for 1,020 yards and 10 touchdowns through the past three seasons.
Joe loved three things about Holmes:
He hasn't missed a game since 2013.
He showed up in the playoffs last year against the Texans: four catches for 50 yards and a touchdown.
At 6-5, 210 pounds, Holmes is a massive target who represents a deep threat.
He is known for strong special teams play.
After the loss of Shepard, a No. 5 receiver no matter what Carolina paid him, Holmes seems like an upgrade replacement.
But there he is on the street — while the Bucs receiving corps remains thin. Perhaps Holmes has overvalued himself (aka Bradley McDougald syndrome)?
As the clock ticks toward the draft, it seems more and more guaranteed the Bucs will draft a receiver in the first three rounds next month — and that Louis Murphy's recent actions are telling.