Smells Like Louis Murphy Will Return
March 12th, 2017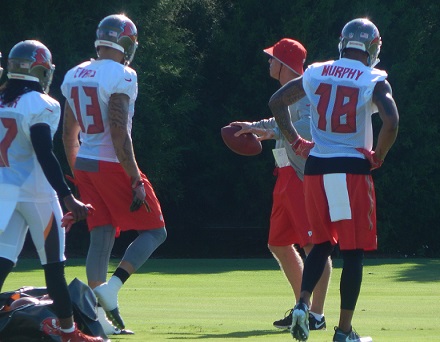 A Friday hangout last week appears to be quite revealing when it comes to the Bucs' plans at receiver.
New Bucs defensive tackle Chris Baker, the former Redskins standout, hopped on WDAE-AM 620 yesterday and talked all things Bucs and free agency.
Baker referenced having a Friday dinner with defensive coordinator Mike Smith and hanging out with Mike Evans and Louis Murphy on the same day.
The receivers were the only players Baker mentioned meeting personally. And after naming them he added, "I'm getting a chance to know the guys on the team. The guys have really been accepting."
That's all swell, except there's one glitch: Murphy was cut by the Bucs in November.
So unless Murphy, 29, has lost his mind and is impersonating a Buccaneer, it sure seems like he's has an understanding with Jason Licht and Dirk Koetter. For example, perhaps they told Murphy to be ready in case free agency and the draft leave them with a roster spot for a veteran receiver who knows the system.
With surprise loss last week of marginal receiver/special teams ace Russell Shepard to the Panthers in free agency, perhaps Murphy was in a celebratory mood on Friday and feeling like he is back in the mix.
Murphy hasn't played since blowing his knee out 17 months ago. His comeback had a minor setback in October and the Bucs waved goodbye.
Depth at receiver concerns Joe. And while Murphy is a question mark, if he's 100 percent now, Joe would love to have him compete for a No. 5 receiver/special teams role. He'd be an upgrade from everyone the Bucs rolled out opposite Mike Evans last year in November and December.