"All Due Respect To AP … But I'm Riding Wit Doug"
February 7th, 2017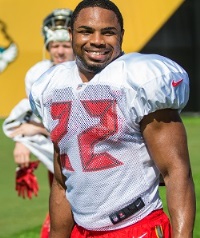 Yes, Joe is ready to wish Doug Martin well on his next team.
Joe can't endorse a running back who has been injured significantly in three of the past four seasons and suspended for the first three games of 2017.
Joe must live life with both eyes open.
However, not everyone agrees. And one of those dissenting opinions belongs to the bully of the Bucs' defense, defense end Robert Ayers.
Ayers recently took to Twitter to answer a fan question about adding potential free agent Adrian Peterson to the Bucs' roster.
Ayers said a polite, No thanks.
All due respect to AP (best rb of our era) but I'm riding wit Doug.. he bout to tear shit up next year when he healthy
Has Ayers heard encouraging news about Martin? Mike Evans hadn't as of 10 days ago. Joe hopes things are looking up for Martin.
Regardless, Joe can't take Martin's potential comeback seriously.
At minimum, the Bucs need to draft a starter-caliber running back — in a draft deep at the position — and re-sign Jacquizz Rodgers while Charles Sims enters his contract year. If Dirk Koetter likes 2016 rookie Peyton Barber, which Koetter claims he does, then he can be your No. 4 back.