Nobody Home
January 27th, 2017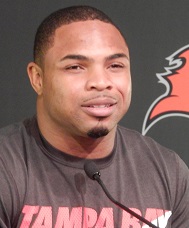 Joe spent quality 1-on-1 time with Mike Evans this morning at Disney World following the NFC Pro Bowl practice.
And Joe will share various nuggets in the coming days.
One topic of conversation was suspended Doug Martin, who said in December, via a statement, that he's battling a drug problem and will enter a treatment program.
Joe asked Evans if he's heard any good news about Martin, and Evans said he's heard no news at all. Evans added that he is a neighbor of Martin's and went by his house last week and nobody was home, and Evans said he hasn't seen any activity around Martin's house.
Joe asked someone else close to Martin today, as well, and that party also said he had heard nothing of any kind about Martin.
Martin was suspended 30 days ago, and has three games left on his suspension.
Joe expects Martin's camp will emerge with an uplifting statement from him and a impressive workout video by March 1.