Fan-Friendly Dynasty At One Buc Palace
February 13th, 2017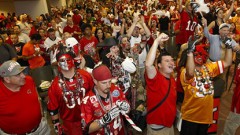 New England has earned five Super Bowl rings this century, but the Bucs have four titles in the past five years.
Yes, Tampa Bay's official NFL accolades are in customer service and satisfaction, but they're still extraordinarily impressive.
The Bucs' mind-blowing fan success in a 32-team league prompted Joe to find out why the Bucs are best in the business at keeping season ticket holders happy.
The NFL undergoes a comprehensive study of season pass holders annually. Fans of all teams are surveyed in-stadium and online, and every single one is hit with a battery of questions that encompasses the year-round fan experience.
All angles are studied, from how fans feel about food, ticketing, interacting with account representatives, in-stadium technology, entertainment value, gameday experience and just about everything else you could think of.
Per the Bucs, the NFL began its current intensive study of customer satisfaction in 2011.
NFL teams are scored and ranked, and the Bucs have been No. 1 in the league in customer service in 2012, 2013, 2015 and 2016.
It's extra impressive that the Bucs have set the NFL standard while their fans endured a lot of losing on the field. That's big-time proof that Tampa Bay goes above and beyond.
So what's the difference-maker at One Buc Palace?
That was an easy question for Buccaneers chief operating officer Brian Ford.
"Our ownership. They are fans first," Ford said. "They get it. They understand that it's not just ship off the tickets."

Ford credited Team Glazer for its "cutting edge approach and cutting edge philosophy and culture." He added that the Bucs owners are always "listening" closely to fan feedback and  "continually change and uplift what we do."

He added that one Bucs owner is a season ticket holder of many professional teams across the sports landscape just to study the experience and find ways to enhance the Bucs' operation.
All-Encompassing
About 3,500 people work at each Bucs home game, per Ford, and the team employs a "difference-maker" program that runs across the entire operation to ensure fans' expectations are exceeded.
"How do we greet them? How do we engage them? How do they feel about what they're getting? Meeting your expectation is not good enough," Ford explained.
This year's NFL honor for customer service carried extra weight.
The Bucs weren't just ranked No. 1 overall. They brought home the gold among regular season ticket holders and club seat owners. The NFL divides its surveys among both groups — premium and non-premium ticket holders.
One element that likely pushed the Bucs over the top in both categories was what Ford called a worst-to-first score in technology of the gameday experience.
Of course, that's a direct result of the 2016 stadium upgrades that included giant video boards and audio improvements, in addition to various in-game enhancement for fantasy football players.
Joe's proud of the Bucs. In the brutally competitive business of the NFL, the Bucs' customer service dynasty is an extraordinary achievement.