Lessons Of 2011 Alive For 2017
February 13th, 2017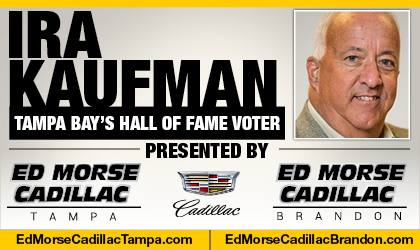 BY IRA KAUFMAN
Not a bad time to be a Glazer.
The Bucs are coming off their first winning season since 2010, Manchester United hasn't lost a match in more than three months, and the value of both franchises continues to soar.
Now comes the moment of truth.
We are 24 days from free agency and the Bucs have all the cap room they need if they want to be major players. But do they?
It's useful to go back to the spring of 2011, when Tampa Bay had just won 10 games with a young quarterback named Josh Freeman. The NFL meetings were held in New Orleans that year and I sat down with co-owner Joel Glazer to reflect on the team's 10-6 record.
"That was one of the most enjoyable seasons I've had in the NFL, seeing this team start to come together for the long term," Glazer said. "It's a great feeling when I talk to fans and I see how excited they are."
Six years later, the parallels are striking.
Some NFL pundits are already tabbing the Bucs as the 2017 team to watch under the leadership of Jameis Winston. It's easy to understand why.
But the Bucs aren't there yet.
In 2011, GM Mark Dominik signed punter Michael Koenen in free agency and called it a day. That fall, the Bucs bolted to a 4-2 start before losing their final 10 games, prompting the Glazers to dismiss head coach Raheem Morris.
Here's Joel Glazer in 2011 on the team's approach to free agency.
"Our thinking doesn't change," he said. "We're going to stick to the plan. The road that leads to sustained success is drafting well, keeping those players and growing the team that way. You never close the door on anything, but it has to fit your formula for success. Big contracts come along with this formula because if you get it right, you've got to pay big salaries — and we look forward to that.
"If there's a player out there in free agency that gives us a great chance to win a Super Bowl, you have to look at that. But we won't have a knee-jerk reaction. Every fan I talk to wants a team that they believe can win a Super Bowl year in and year out, not just for one year or two years."
In retrospect, the 2011 Bucs should have been more aggressive in free agency. Darren Sproles was available from San Diego, but the versatile back signed instead with the Saints and immediately led the NFL with 2,696 all-purpose yards.
For Real This Time
The 2010 Bucs weren't as good as their record indicated. Freeman kept pulling games out of his butt and there wasn't enough leadership in the room to pull Tampa Bay out of its death spiral the following season.
The 2016 Bucs are different. Tampa Bay went 6-2 in the second half of the season, losing tight games at Dallas and New Orleans.
A five-game winning streak included victories against league powers Kansas City and Seattle.
"The Bucs were really playing well as a team when we faced them," Chiefs defensive coordinator Bob Sutton told me at the Pro Bowl. "It's arrows up for Tampa. Winston's going to be a really good quarterback. He's not an easy guy to get down and he reminds me of Ben Roethlisberger, a big man who can move in the pocket. You sense how his teammates respond to him — good body language, good vibes."
Now it's up to ownership to provide good vibes for Jason Licht, who admits he isn't proud of a 2014 spending spree that ushered in Anthony Collins, Michael Johnson, Josh McCown and Alterraun Verner.
Licht swears he learned from his mistakes and, to be fair, Lovie Smith had a big hand in shaping that 2014 roster.
Power Shift, Expectations High
Licht has more power now, but he's not an autocrat. He will work closely with Dirk Koetter to build depth and add impact players on both sides of the ball.
The Bucs are close, and the Glazers know it. Expectations have been raised and that nine-year playoff drought has to end next season or there will be consequences.
"We hope to watch the young guys grow and mature," Joel Glazer said after that magical 2010 season. "I just can't wait. It's been a long time since I've been this excited. Last year was one of the most fun years I've had as an owner. Don't get me wrong, winning the Super Bowl is the pinnacle, but last year … the players we had, the chemistry we had, the attitude, the optimism. I can't wait for what's next."
We all know what came next — three coaching changes within a five-year span.
Licht and Koetter are currently stacking their free agent boards and you can be sure the mistakes of 2011 are well documented at One Buc Place.
Here's some free advice gentlemen … you don't need a punter.