Mandatory Aggression In Free Agency
February 20th, 2017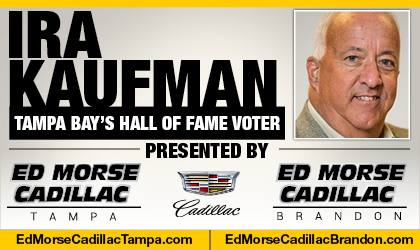 BY IRA KAUFMAN
Buc fans haven't forgotten what happened the last time they were so geeked up about their football team.
How could they?
Six years ago, Tampa Bay was coming off a winning season that appeared to hold so much promise for the future. Josh Freeman had just turned 23 and he was spectacular in his first full season as an NFL starter.
From the Glazers to GM Mark Dominik, everyone was convinced the Bucs had finally landed their franchise quarterback.
But after a 4-2 start in 2011, the bottom fell out as the Bucs dropped their final 10 games. Raheem Morris was fired, triggering a four-year run of instability and losing.
Once the death spiral began with a 24-18 setback against the Bears at London's Wembley Stadium, Tampa Bay lacked the leadership to right the ship.
Morris and offensive coordinator Greg Olson appeared hopeless in those final 10 games. It was a complete collapse, embarrassing and astonishing to witness.
Flash forward to the current Bucs, coming off a 9-7 season with a 23-year-old quarterback who has quickly earned respect among his peers. Expectations are high, to go along with higher ticket prices.
Self-Awareness
If the Bucs don't learn from history, we're in for another rude awakening. The first lesson is to properly assess your talent base.
Six years ago, the Bucs treated free agency like it was MRSA. When punter Michael Koenen is trumpeted as your most significant free-agent addition, you've missed an opportunity.
The 2011 draft provided little impact as well — Adrian Clayborn, Da'Quan Bowers, Mason Foster, Luke Stocker, Ahmad Black, Allen Bradford, Anthony Gaitor, Daniel Hardy.
See any Pro Bowlers in that group?
I can't see Jason Licht or Dirk Koetter sitting on their hands in the next few months. They know this team isn't there yet.
So do the Glazers.
The Bucs are building a strong locker room, but they need more veteran leadership. That's why Calais Campbell makes sense on so many levels.
Winston isn't likely to go off the rails like Freeman, who threw 10 TD passes and 16 interceptions during that 10-game tailspin.
Mandatory Aggression
Everyone working at One Buc Place has to realize the rebuilding plan is over. The time to strike is now.
"Anytime we get an opportunity, we've got to take advantage of it," Winston says. "We fell short of that, but I don't see us falling short in the future. That's why I'm excited for the offseason and I'm ready to do whatever it takes to make sure that we take more positive strides next year."
I don't expect a repeat of 2011. This talent base runs far deeper and the current coaching staff is far superior.
Dezmon Briscoe, a backup wide receiver, led the 2010 Bucs with six touchdowns. There was no Mike Evans or an emerging tight end like Cameron Brate.
Ronde Barber tried his best to hold things together, but he was surrounded by knuckleheads like Aqib Talib and Tanard Jackson. Instead of Lavonte David and Kwon Alexander, the key linebackers were Geno Hayes and Foster.
The Bucs say they'll be strategic in free agency, and there's nothing wrong with that approach. Adding Campbell would be strategic.
The key is to stay aggressive in an effort to upgrade the roster. That means continuing Licht's success in the past three drafts. That means bringing in kickers to give Roberto Aguayo serious competition.
It means not resting on your laurels.
We all saw what happened in 2011. It wasn't a pretty sight.
In fact, it was downright unforgettable.
Let's hope.