Demanding Calais Campbell's Arrival
February 17th, 2017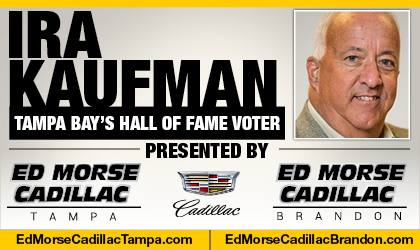 BY IRA KAUFMAN
When it comes to the Bucs and free agency, one man towers above the rest.
Literally and figuratively.
He won't come cheap, but Calais Campbell needs to haul his 6-foot-8, 300-pound frame from Arizona to the Sunshine State and help the Bucs reach the promised land.
Campbell turns 31 on Sept. 1, but he shows no signs of slowing down after nine seasons with the Cardinals. He is coming off one of his best years, posting eight sacks, two forced fumbles, three fumbles recovered and an interception.
There was a time not long ago when the Bucs wouldn't look twice at any free agent in his 30s, but that stance has changed. Credit Jason Licht for reaching out to a Brent Grimes and a Robert Ayers last year, adding critical leadership.
Campbell is in that same mold, a voice of experience and wisdom who can still play at a high level.
Why would the Cardinals allow Campbell to reach free agency? They don't have much of a choice.
$12 Million? No Problem.
It appears Arizona will be forced to use its franchise tag on pass rusher Chandler Jones (11 sacks), the former Patriots first-round pick. It's the same tag the Cardinals applied to Campbell in 2012. That's where the Bucs can swoop in and show Campbell more love than anyone else.
Let's not kid ourselves — Campbell will be one of the most coveted players in free agency.
Bring it on.
The Broncos could pitch a return to Campbell's roots in Denver, and that makes for a heartwarming story, but this isn't about writing a Hallmark card. The Bucs have the cold, harsh cash to get this done.
If it takes $12 million a year, so be it.
That's the cost of doing business when it comes to a two-time Pro Bowler who has missed only six games in nine years.
Campbell worked primarily with a 3-4 front in Arizona, but he has the athleticism and versatility to be an impact player in a four-man line.
"Some tall guys can't bend," says Cardinals coach Bruce Arians. "They have to stay out on the edge. Calais can bend, so he can play all four positions across the front."
No suitor for Campbell's services will have better intel than Tampa Bay. Licht was a personnel executive in Arizona in 2008, 2012 and 2013, and one of his best friends is Cardinals GM Steve Keim.
If Campbell hits free agency, as expected, Keim will make sure the Bucs know everything about him.
There's a lot to like.
Telling Chills
Campbell is well respected among teammates and fans in the desert. When he talks, people listen.
He does most of his talking on the field, knocking down passes, demanding double teams and standing tall against the run for the NFL's second-ranked defense.
The Cardinals have said goodbye to talented vets in recent years — Adrian Wilson, Karlos Dansby, Darnell Dockett and Antonio Cromartie — and Arizona's loss could be Tampa's gain.
Campbell looked like he had one foot out the door after Arizona's final home game, a 48-41 loss to New Orleans.
"Before the game I was getting chills on my back just thinking about the honor that I've had with being able to play with this group of men and for this organization for as long as I have," Campbell said.
Does that sound like a player who plans to return?
Get 'er done, Bucs.