Slapping Fear-Riddled Fans
January 21st, 2017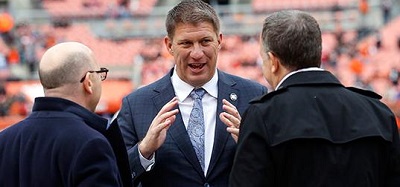 Loyal readers here know JoeBucsFan.com columnist and Tampa Bay's only Hall of Fame voter, Ira Kaufman, clobbered Joe in his Friday column.
Joe is grateful for the chance to slap Ira back — and to drop some reality on the fear-riddled Bucs fans who agreed with him.
You can read Ira's take here, but in a nutshell, Ira claimed the Bucs won't go wild in free agency this year because they have a strong young nucleus, including the grand slam 2015 draft class that needs to be paid in the upcoming seasons.
The Bucs will need to preserve money to get those contracts done and follow Team Glazer's plan, Ira said, as he scoffed at Joe for yearning to sign Adrian Peterson, DeSean Jackson and Calais Campbell.
To that, Joe screams, Baloney!
The reality is the Bucs have the money to re-sign all their stars when their contracts are up and still deliver Peterson, Jackson and Campbell fat guaranteed contracts for the next two seasons.
The Bucs are $61.2 million under the salary cap for 2017, per ESPN, plus they have dead weight in place that can add at least another $15 million (See Doug Martin, J.R. Sweezy and Alterraun Verner).
Kwon Alexander, Donovan Smith, Ali Marpet and Mike Evans are all under team control – and inexpensive – for the next two seasons. For Jameis Winston, it's three more seasons. What exactly is the hurry to re-sign those guys?
The sad reality is one of them is likely to have a serious injury in the next two seasons and/or have a major drop in effectiveness.
Come 2019, the Bucs also won't owe a guaranteed nickel to Gerald McCoy and Lavonte David. They could dump either one of their giant salaries without penalty if their play falls off. By 2019, expensive Robert Ayers and Brent Grimes are likely to be out of football. And the salary cap goes up every year.
The point is the Bucs have the money and flexibility now — in 2017 and 2018 — to greatly enhance a 9-7 team that has its prized defensive coordinator on lockdown for those two years.
The time is now.
A few bold free agency moves (not necessarily Peterson, Jackson and Campbell) is the reward fate and strong salary cap management have provided. What a shame it would be to waste it.
Joe looks to the Broncos opening the vault for Aqib Talib, DeMarcus Ware and T.J. Ward in 2014. That worked out pretty damn well for them.
The Bucs should be targeting a similar type of haul in free agency.