Cupboard Contents Will Restrain Jason Licht
January 20th, 2017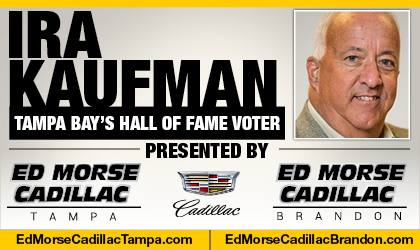 BY IRA KAUFMAN
Every once in awhile, the guys who astutely run this website have to be slapped back into reality.
This is one of those moments.
The same pundits who foolishly labeled Mark Dominik a "rock star" and prematurely assigned Jameis Winston with the title "America's Quarterback" are now giddy with the prospect of the Bucs going hog wild in the offseason.
They can't sleep at night, imagining the sight of Adrian Peterson, DeSean Jackson and Calais Campbell wearing pewter.
Pump those brakes, gentlemen.
Yes, the Bucs have all kinds of money to spend on free agents. Yes, a 9-7 season suggests the right upgrades could help Tampa Bay make the leap to perennial playoff contender.
But let's not forget the Glazers are adamant about re-signing core talent to extensions — and that takes big bucks.
The biggest problem around here since 2002 has been the lack of young foundational players who needed to be retained.
But thanks to the savvy drafting of Jason Licht, the cupboard is no longer empty.
Winston has the look of the first franchise quarterback in Buc history. Mike Evans is likely the best wide receiver to ever work out of One Buc Place.
After only two years, Ali Marpet has established himself as Tampa Bay's most accomplished offensive lineman. Kwon Alexander is the heart and soul of an improving defense.
When the Bucs get to where they want to go, those players will lead the way. And they will be on second contracts.
That takes CASH.
Campbell Embrace, Glazer Review
Don't expect another 2014 land rush that ushered in free-agent busts like Anthony Collins and Michael Johnson.
"That was not the way," Licht said in retrospect. "I was never around an organization that did it that way, but I did it and I accept responsibility for it. It just took me back to what my core values and beliefs are regarding free agency: you can't buy a championship, you've got to build one."
The Bucs will be more selective this time around, targeting high-character players.
Campbell appears to fit that mold, and Licht will have killer intel on Arizona's 6-foot-8 defensive lineman because Cardinals GM Steve Keim is a close friend.
Campbell, who turns 31 in September, is a versatile player — a 300-pound rock difficult to budge inside, yet a good enough athlete to be a dynamic force off the edge.
Pursuing Campbell makes sense, but the Bucs will have fierce competition if Arizona lets him test the market. There is growing talk the Broncos are interested in Campbell, who will likely command Michael Bennett dollars ($31.5 million over 3 years).
For perspective, let's go back to the spring of 2011, when the Bucs were coming off a 10-win season. At that point, I asked co-owner Joel Glazer if the organization felt the need to be more aggressive in free agency.
"Our thinking doesn't change," Glazer said. "We're going to stick to the plan. The road that leads to sustained success is drafting well, keeping those players and growing the team that way. You never close the door on anything, but it has to fit your formula for success. Big contracts come along with this formula because if you get it right, you've got to pay big salaries — and we look forward to that. If there's a player out there in free agency that gives us a great chance to win a Super Bowl, you have to look at that."
Unlike some others, I'm not jumping on the Peterson Express.
Shopping Orders
A running back who turns 32 in March has a lot to prove, especially coming off knee surgery. Peterson is already publicly shopping himself to the Bucs, Texans and Giants, but he remains under contract to Minnesota.
Peterson won't come cheap, and he's only a stop-gap measure. Despite Peterson's claim that he has five good years left, his history and age suggest the Bucs would be lucky to squeeze out two solid seasons from him.
Yes, the Bucs will be active in free agency, but they will be strategic. As Glazer notes, teams that appear to win free agency in March with a spending spree rarely find success in September.
"The best players are not in free agency," says Hall of Fame executive Bill Polian. "They are tagged or signed. By definition, you are getting a guy that is not somebody else's No. 1 … and you are probably over-paying for him. When you have a good team and a good personnel department, then it behooves you to be restrained in free agency.
"Fans want you to go out and play fantasy football, but that's the last thing you should be doing because that money, if you miss, is gone and it's never coming back."
Tampa Bay's only Hall of Fame voter pens columns for JoeBucsFan.com Mondays, Wednesdays and Fridays, and he churns out his popular podcasts here Tuesdays and Thursdays. You can also listen to the podcasts on iTunes or Podbean.