Gil Brandt: No Interest In Glennon
January 21st, 2017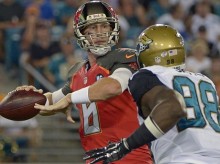 The proud Mike Glennon Mob is as ludicrous as the other radical Bucs fan groups fueled by media and blinded by pewter and red love.
Think the Kenny Bell Mob, the Russell Shepard Flock, the Doug Martin Apologists and the exploding Will Gholston Gang.
All have the same thing in common: overvaluing players just because they wear the uniform, give pretty quotes, and/or have secured a place in the hearts of fans who misguidedly think loyalty wins championships.
Take Shepard and Bell; various media outlets (not Joe) were pimping these guys as breakthrough receiving talents the past two years — without a tangible reason why.
Then there's the Martin fanboys. They ignore that Martin has been injured three of the past four seasons, is coming off a bad year running the football, has a drug problem and will miss the first three games of 2017. These apologists scream that he's a must-keep on the Bucs roster and blame the offensive line.
Gholston? He's a part-time player who doesn't deserve the free-agency loot he's inevitably seeking, a stud run-stuffer in a passing league and a QB-strong division.
That brings Joe back to Glennon, who admirably explained to JoeBucsFan.com columnist Ira Kaufman all about how he's going to test the free agency market in March.
Two weeks ago, big-name media types weeks Twittered about how Glennon could command $13 million+ per season on the market. But that Glennon chatter has gone awfully quiet, as expected. (Joe assumes Glennon's agent went on vacation.)
On Wednesday, former Cowboys personnel chief and legendary scouting guru Gil Brandt penned a deep look at options for eight quarterback-needy NFL teams. Glennon's name didn't show up in the story.
No surprise.
In March, Joe hopes Glennon quickly realizes his best chance of playing meaningful football for a good team is in Tampa, where the starting quarterback likes to sacrifice his body.
Glennon re-signing for good backup money would be a win for all.