Mike Glennon Talks About Moving On
January 2nd, 2017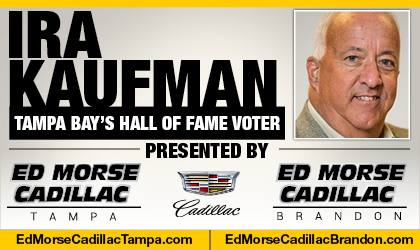 BY IRA KAUFMAN
Mike Glennon sounds like a man who is moving on.
Can you blame him?
After four seasons with the Bucs, Glennon is eager to test the NFL's free-agent waters, knowing he might receive a lukewarm response.
As Jameis Winston's backup, Glennon did not take a single snap in 2015 and he threw only 11 passes this season, completing 10. With the 22-year-old Winston entrenched at One Buc Place, why would Glennon want to re-sign here and carry a clipboard once again?
"Let's see what happens," Glennon said after Sunday's 17-16 victory against Carolina in the season finale. "I didn't think I was coming back to Tampa the past couple of years. I've really enjoyed my time here. I'm living my dream to be in the NFL and I'm ready for my next opportunity."
Greg Schiano had a big hand in selecting Glennon out of North Carolina State in the third round of the 2013 draft.
Schiano was wary of Josh Freeman from the start — and those concerns deepened at the end of the 2012 season after the Bucs had fashioned a 6-4 record. That December, Tampa Bay went 1-4 as Freeman completed only 51 percent of his passes and threw 10 interceptions.
Tape Will Talk
When Freeman went south the following September, Glennon took over with mixed results, going 4-9 despite throwing 19 touchdowns and nine picks.
Josh McCown entered the picture in 2014 at Lovie Smith's ill-advised request, inexplicably sending Glennon back to the bench.
"Being one of 32 starting quarterbacks in the NFL is the best job in the world … being number 33-64 is right there behind that," said Glennon, who turned 27 in December. "Have I put enough on tape? We'll soon find out. I've got 18 starts (5-13) under my belt and there's been a lot of guys that have done less and gotten an opportunity."
Glennon's lack of mobility remains an issue, but his 30-15 ratio of TD passes to interceptions is impressive and his 84.6 career passer rating is better than Sam Bradford, the first overall pick in the 2010 draft.
Plenty of NFL teams are desperate for reliability at the quarterback position. There are plenty of backups masquerading as No. 1's and all Glennon wants is a chance to prove he can be a starter.
"My message for my agent is let's see what's out there," he said. "I know I can do it. I've had some success in this league and I know I can play."
When free agency begins, Glennon will ascertain his stock in NFL circles. The Bucs didn't receive a good enough trade offer for Glennon the past few years, so they kept him as a solid backup in the event Winston was injured.
"Jameis and I had a great relationship," Glennon said. "We got along really well and it wasn't an awkward situation at all. Our personalities balanced each other out."
Smooth Transition
While Winston's passion and emotion are obvious for all to see, Glennon is more guarded. He's harder to read, and now it's time for a new chapter.
"There's been ups and downs during my time here, but we got better as a team," Glennon said. "Bringing in Dirk Koetter was a really good move. He's as good of a coach as I've been around. He understands 'X's' and 'O's' and he knows how to relate to players. Dirk's funny, but he can also be intense. He's a big reason why we were successful this year."
If Glennon leaves, as expected, the Bucs will need a new No. 2 quarterback next fall. It won't be a top priority, like a speedy wide receiver, but Winston's backup has to prepare like a starter.
Glennon was a true professional from the moment he arrived at One Buc Place. He never complained, even when the Bucs made the foolish move of bringing in McCown.
In retrospect, playing the fool helped Tampa Bay grab Winston with the No. 1 pick the following year.
"There's no doubt in my mind Jameis is going to be a great quarterback in this league," Glennon said. "With him and Dirk aboard, the future's very bright here in Tampa."