TV Map For Bucs-Saints
December 24th, 2016
Where can you watch the Bucs-Saints game free? Joe has answers.
The Bucs travel to The Big Easy, hopefully not to eat shrimp and grits and gumbo, but to win a damned important game. Respectability and playoff hopes are on the line for the Bucs.
So where can you find the game on your TV? It seems half the country will get to watch the Bucs via their over-the-air FOX broadcast affiliate. If you live east of the Mississippi or in the northern plains, there is a high probability you will not need a satellite dish or need to go to a sports bar.
As always, TV map courtesy of the506.com.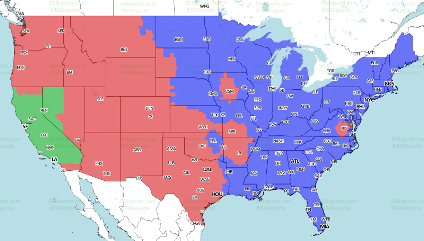 Blue: Tampa Bay @ New Orleans.
Red: Arizona @ Seattle.
Green: San Francisco @ Los Angeles.
Gray: No game.