Smells Like Seattle
December 11th, 2016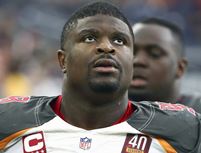 Only one starter on the Buccaneers' defense really knows what it's like to play for a truly dominating Super Bowl defense.
That's defensive tackle Clinton McDonald. He got a Seahawks Super Bowl ring before bolting Seattle for Tampa Bay in 2014.
Joe and McDonald had a 1-on-1 in the locker room after today's glorious Bucs victory, another smothering effort by the defense.
McDonald does not like to talk much about his Seattle days and compare then to the Bucs, but he did today.
He sees clear similarities between the Bucs defense and Seattle's championship unit.
"Same work ethic. Same brotherhood. Same togetherness," McDonald told Joe. "Everybody's on the same page and everybody wants to be great out there. We want to be great as a defense. We want to be great as individuals. But we also know we have to sacrifice for the greater good, which is the team. And when you have a team that can sacrifice for the greater good and stay humble while you're doing it, and remain wise in your actions, it happens like this."
Powerful stuff there from McDonald.
Joe's looking for answers as to why the Bucs defense is choking out top offenses and elite quarterbacks over and over.
Yeah, talent makes plays and Mike Smith is one confident shotcaller right now pushing all the right buttons, but perhaps McDonald's take and perspective is the money answer.