Prime Time Kwon
December 19th, 2016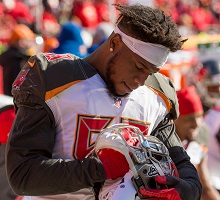 Joe has to give it up to the Bucs' 22-year-old stud who came to ball out with his head fully in the game Sunday night: Jameis Winston Kwon Alexander.
What a beast.
Kwon led the Bucs with 11 solo tackles and 10 assisted tackles, and he delivered the fourth-quarter, crunch-time hit on future Hall of Famer Jason Witten that forced the only Bucs turnover of the game. Kwon was a true man last night.
Joe believes Kwon clearly has emerged as the best linebacker on the roster, and among the top dogs in the NFL.
Quite a find by Jason Licht and friends in the fourth round of last year's draft.
Kwon has been called "The Jameis of the Defense" by coaches. If he keeps this up, then that won't due him justice. He is that good.
After this groin-kick of a loss in Dallas, the thought of Kwon's play will keep Joe in tolerable spirits through the wee hours.