Gerald McCoy Is A 2010 Denier
December 9th, 2016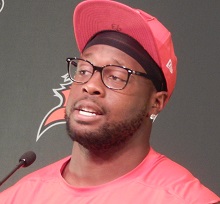 Shame on Gerald McCoy.
It's understandable why many Bucs fans, beaten down by losing, would be in denial that the Bucs were 7-5 in December 2010 (same record they have now), just after losing a home heartbreaker against a 9-2 Falcons team.
That Falcons game, in which the Bucs blew a 10-point, fourth-quarter lead, was a contest with massive playoff implications under huge national scrutiny.
Who could forget Bucs wide receiver Maurice Stovall whiffing on a routine push-out-of-bounds tackle on Eric Weems' 102-yard kickoff return? It was as if the football gods invaded Stovall at that exact second to kick the Bucs in the groin.
Gerald McCoy was a healthy rookie starter in that critical December game.
In fact, McCoy was coming off a two-sack performance in Baltimore the previous week. He was riding high and very dialed in.
But it seems McCoy has blocked out all his valuable 2010 experience and isn't bringing that to his teammates and the current Bucs experience this seek.
Consider McCoy's response when he was asked by Rick Stroud of the Tampa Bay Times yesterday. (Full video here)
Stroud: When you get to this time of year, do [games] feel bigger. Do they feel bigger to you in December?

McCoy: "I don't know. I don't know. I've never been in this situation, so I don't know [laughs]. I would assume so. Yeah. Yeah. Yeah. I would assume so. This being November, December football, for us, very meaningful football. And, you know, You look around the league in past years, you're like, 'Hey, they say well this game counts and this game counts and this team team's in the hunt, well that team is this number, and that's what this time is about.' All our coaches and our players that have been there have said, 'You win in December, you get to play in January.' Simple as that, so December has begun."
This really gets under Joe's skin.
McCoy has previously said that his rookie year was sad for him. He didn't enjoy it.
Imagine the Bucs finishing 10-6 this year and Noah Spence looking back with a tinge of regret and blocking out the success and experience of a winning club.
Joe defends McCoy's play routinely and vigorously. Regular readers here know that. But this mindset from McCoy is baffling, bizarre and nearly ridiculous.
Joe hopes it's not a result of McCoy taking too many shots to the head.