"A Real Mother Around These Parts"
December 9th, 2016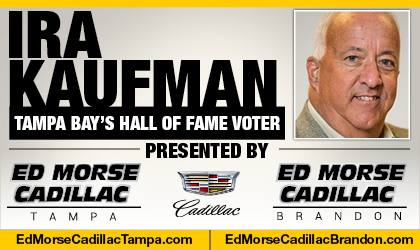 The only Pro Football Hall of Fame voter representing Tampa Bay works right here at JoeBucsFan.com, grinding away two podcasts a week and three or four columns. eye-RAH! also eats all the potato chips at JoeBucsFan.com world headquarters. Enjoy his latest on the 2016 playoff karma.
BY IRA KAUFMAN
In hockey, it's called puck luck.
You can prepare well and play well, but if that rubber disc doesn't bounce your way, you often wind up on the wrong side of the scoreboard.
In football, it's called bad karma — and the Bucs have been oozing with it since the team began play in 1976.
Through the years, Buc fans have witnessed bad ownership, bad coaching and too many bad draft picks to list without taking up this entire column. Those are the primary culprits and that's why, entering this season, the Bucs were saddled with the worst winning percentage (.385) of any NFL team since the 1970 merger.
But this forlorn franchise has also come up repeatedly short in the karma department. Game fortune has been a real mother around these parts.
Tipped balls, poor officiating and key injuries have contributed mightily to the malaise, but I sense a change blowing in the wind as the Saints come to town.
The Other Guy's Turn
Take last week's Falcons-Chiefs game for example.
Atlanta moved up and down the field all afternoon, but ended up one point short after Matt Ryan threw a pick-6 and a pick-2. How's that for an exacta?
Those are the kind of losses the Bucs have held a patent on during their inglorious history. Now, it's the other guy's turn to suffer as the Bucs caught the Falcons atop the division.
And while Tampa Bay is returning to health for the stretch run, NFC counterparts are taking numbers just to get into a crowded trainer's room.
* New Orleans could be missing top running back Mark Ingram (toe) and elite center Max Unger (foot) in Sunday's matchup.
"Mark's having his best year, in my opinion, in the NFL," said Bucs coach Dirk Koetter. "He's really playing like the guy they expected when they got him, breaking tackles and running with speed and power. A good running game is a quarterback's best friend because it makes the defense respect it."
* After losing their top cornerback, Desmond Trufant, for the season with a torn pectoral, the Falcons are now concerned about a turf toe that may impact the effectiveness of Julio Jones in the final month.
* On Tampa Bay's heels in the Wild Card chase, the Redskins don't know whether standout tight end Jordan Reed can overcome his shoulder issues.
* Jason Pierre-Paul, who was enjoying a dynamic comeback season up front for the Giants, is done for the year with a hernia that could trigger a tailspin in the Meadowlands.
."It's a devastating loss," says NBC analyst Rodney Harrison. "You can't just look at his sack numbers and truly appreciate his impact on this team. His teammates say he's the best defensive player they have. He's the most important player on that team."
* The Vikings are coming to grips with the likelihood that they can't count on Pro Bowl safety Harrison Smith, recuperating from a high ankle sprain.
The hits just keep on coming for Buc opponents.
Ask Buffalo Springfield
A positive vibe has surrounded Tampa Bay since back-to-back home losses against Oakland and Atlanta dropped Tampa Bay to 3-5. A club that once specialized in finding ways to lose in crunch time has outscored the past four opponents 25-7 in the fourth quarter.
Strange things are going on.
Lavonte David forces a fumble by Seattle's Jimmy Graham, dislodging the ball with his knee. Rookie Vernon Hargreaves deflects a Philip Rivers pass into David's hands for a pick-6 in San Diego.
In other seasons, that football flutters harmlessly to the turf instead of landing in David's greedy mitts.
Give this organization credit. The Bucs are doing a lot of things well right now and Dirk Koetter's staff is coaching its butt off. Jason Licht keeps finding bodies off the street to contribute.
But let's also acknowledge that good karma has done an about-face, returning to One Buc Place after a long absence.
Welcome back.
The Buffalo Springfield put it best in the opening lines of "For What It's Worth," a hit single recorded by that underrated band 50 years ago this week.
"There's something happening here
What it is ain't exactly clear."