Devin Hester Anyone?
December 15th, 2016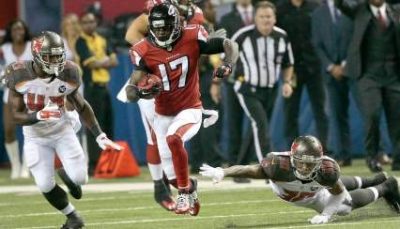 Once upon a time in 2014, an offensive coordinator finally figured out how to capitalize effectively on Devin Hester's receiving talent.
His name was Dirk Koetter.
Hester caught 38 balls on 59 targets for 504 yards and two touchdowns with the Falcons in 2014, where Koetter was calling the plays.
Many years ago, former Bears head coach Lovie Smith tried to force Hester into a premier receiver role that didn't suit him. But in Atlanta, Koetter found a complementary role for Koetter that worked.
Joe brings this up because Hester is a free man on the street after getting waived by the Ravens this week. Hester had a bad year returning kicks and punts. Guys don't get cut because they're good at what they do.
But the Ravens weren't asking Hester to play receiver. And with the Bucs rolling with the likes of Josh Huff, Freddie Martino, Russell Shepard and The Stampeder, Donteea Dye, in this playoff run, Joe thinks Hester is worth bringing in for a conversation and a workout.
What's the harm?
Koetter has said repeatedly that bringing in a veteran who knows Koetter's system and/or possesses a trust factor with him is important for a guy joining the roster midseason. See Cecil Shorts, Antone Smith, Jacquizz Rodgers, Mike James and others.
Hester, 34, certainly fits that mold and he's always been a top-flight NFL citizen. Joe would feel very good about Hester joining the roster for the final push.