Another Mathematical Path To NFC South Title
December 15th, 2016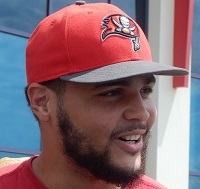 We've already learned the Bucs have a 69.3 percent shot at postseason action.
But what about just the paths to the NFC South title?
Joe's written about playoff scenarios, but there's another good one out there that was being discussed within the walls of One Buc Palace yesterday.
If the Bucs (8-5) lose to Dallas (strong possibility) and win their final two games, then they will win the NFC South crown if Atlanta (8-5) beats the 49ers Sunday and loses once to either Carolina or the Saints to end the season.
Why?
Because in that scenario, the Bucs would finish with the better division record.
Yes, don't go jumping off a cliff if the Bucs lose Sunday night. The march to a 10-6 record would still be going strong, and that should be good enough for the playoffs.
Tampa Bay remains in great shape in the secondary Wild Card race.
Washington is 7-5-1 with remaining games at home against the Panthers and Giants, and at the Bears.
The Vikings (7-6) have home games against the Colts and Bears, and they head to Green Bay (7-6). The Packers also have road games at the Bears and Lions.
Don't look now, but the Seahawks (8-4-1) are only a half-game up on the Bucs and Tampa Bay owns the tiebreaker for playoff seeding among division winners. Detroit is 9-4 but faces the Giants, Dallas and Green Bay to close the season.
For now, it's on to Sunday Night Football. (Don't forget Joe's watch party at Abe's Place in Clearwater. ($5.00 off your bill if you wear any kind of Bucs gear.)