Cameron Brate Names "Nastiest" In Locker Room
December 15th, 2016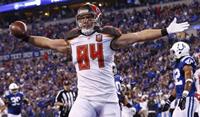 Fun interview with Cameron Brate on FOX Sports radio, yes, national radio.
Among many topics, Brate talked about memorizing the Latin verses of a Harvard fight song, not being ready for the NFL in his 2014 rookie season, and about players talking a lot about schoolwork at Harvard football practices where he had to block 225-pound defensive ends.
Brate also credited Luke Stocker and Brandon Myers for being great mentors to him since arriving in the NFL.
Asked to name the nastiest Buccaneer in the locker room, the guy he wouldn't want to fight, Brate fingered defensive end Will Gholston.
Joe thought for sure it would be Robert Ayers, but Brate didn't hesitate on Gholston.
Brate also got into the "MAC" conference offers he had out of high school but explained his parents would have killed him if he passed on the Harvard opportunity.
Enjoy the full interview here.