Running Into A Wall
December 21st, 2016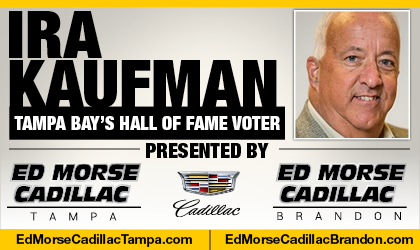 BY IRA KAUFMAN
They're trying, Lord, they're trying.
You can't say Dirk Koetter and Todd Monken have abandoned a flat-lined running game that is killing the Bucs right now.
They keep running Doug Martin left, Doug Martin right, Doug Martin up the middle, but the results don't seem to change.
The word "plodding" comes to mind.
Charles Sims isn't doing any better, either.
There's a mystery here because with the exception of veteran left guard Logan Mankins, Tampa Bay's offensive line has returned intact from a 2015 unit that blocked ferociously to open running lanes.
If Mankins was that important, he should have been named MVP of the league last season.
Health Rules
The five starters along the offensive line have missed a total of five games this season. By NFL standards, that's a run of incredible health.
There's got to be more to it — and the Bucs are running out of time to figure out what's wrong.
"If it was an easy fix, it would have been done, but it's not," right guard Ali Marpet says of the ongoing rushing woes. "I love that coach Koetter still has confidence in us. I respect the heck out of that."
The Bucs show no signs of returning to the September days when Jameis Winston was throwing 40 passes per game.
"I'll give Coach Koetter a lot of credit — we've continued to try and run it when we haven't been able to run it because that's who we have to be in order to make our play-action game work," Monken says. "Receivers have to block better, we've got to do a better job of being able to throw it down the field to get some people off of us in the run game and give us better box numbers."
Koetter continues to show faith in his backs and run blockers, and that's commendable, but at some point things have to change.
Saturday at the Superdome wouldn't be a bad place to start because it's folly to think you're going to beat New Orleans 16-11 again. Drew Brees showed last week that he still has a lot of pride.
The best way to keep him down is to keep him steaming on the sidelines.
Better production on first down will be critical, and that's an area the Bucs have much work to do. Tampa Bay ran the ball 13 times on first down against the Cowboys … and ended up with 21 yards.
For our math-challenged readers, let me help you.
That stinks.
Martin was responsible for 11 of those first-down carries and he generated 25 yards. Eight of those snaps gained three yards or less.
That stinks.
If Martin is still hampered by that serious hamstring injury suffered in Week 2, he shouldn't be the primary back. If he's healthy and producing these feeble numbers, that's even worse.
Precision Lost
Success on first down has been a problem all season. The Bucs average only 4.64 yards on first down, and only the Texans (4.58) are worse. In contrast, the team the Bucs are chasing in the NFC South, Atlanta, tops the NFL with a 7.46 average on first down.
Big, big difference.
"If we continue to stick with it, it'll come," Marpet says. "When you get away from the run, it really throws off the rhythm of a game. It's awesome that he (Koetter) continues to believe in us,"
Adding to the frustration is the knowledge that the Bucs ran the ball with power and precision in 2015, averaging 4.8 yards per carry. They topped 115 yards on the ground 11 times.
This year, they have rushed for 105 yards or more only four times.
Martin's drop off has been staggering. He has exactly half as many carries as last season (144-288) and almost 1,000 fewer yards.
It's time to see what Jacquizz Rodgers can do. He's healthy again and he has already shown he can break runs behind this line.
I say turn Rodgers loose and let a lousy Saints defense try to chase him down.