America, Tampa Loved The Bucs On TV
December 19th, 2016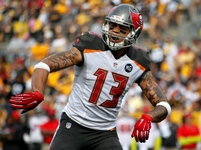 The Tampa Bay Lightning in the 2015 Stanley Cup finals? Pfffft.
That was no Nielsen ratings match for last night's Bucs-Cowboys game.
Per the Fort Worth Star-Telegram, NBC Sports national ratings data was explosive, the second-highest national numbers of the season. Locally, the Tampa-St. Petersburg-Sarasota market was sixth in the nation for the Bucs-Cowboys with a 23.0 rating. Texas cities, followed by Richmond (Virginia), took the top-5 spots.
For perspective, Game 1 of the Lightning skating for the Stanley Cup last year drew a 17.9 rating, and it was down from there in the series.
Yes, Tampa is still a football town without question.
Joe is most pleased the Bucs were part of such a well-performing game nationally, following poor ratings for their early-October Monday Night Football game at Carolina.
Also, the Bucs covered the spread against the Cowboys last night, pushing them to 9-5 against the spread on the season. Joe doesn't care about the gambling but knows the networks absolutely consider it when choosing prime time games for the following season.
If the Bucs finish 10-6, it wouldn't shock Joe to see them get four prime time games next season.
For those wondering, the Tampa Bay TV market is the 11th largest in the nation, 1.86 million "TV homes," wedged between Houston (10) and Phoenix (12).