TV Map For Bucs-Chargers
December 3rd, 2016
It's that time of the week to find out if you must get a designated driver tomorrow.
The Bucs travel to the west coast for perhaps one of the last games in the history of the San Diego Chargers, a team rumored to be relocating to their original home in Los Angeles next season.
Also, both national respectability and playoff hopes are on the line for the Bucs.
So where can you find the game on your TV? Joe has answers.
Joe is frankly depressed. More people in Florida will see the game than in California. And if you don't live in the immediate San Diego area or in the Sunshine State, you will need NFL Sunday Ticket or a friendly local bar.
Virtually nowhere outside of San Diego and Florida will the game be available on a local FOX affiliate on free over-the-air TV.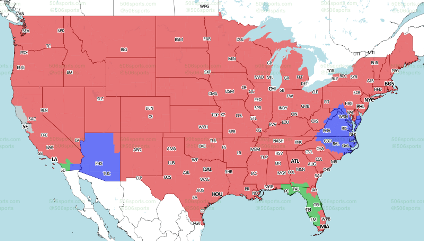 As always, TV map courtesy of the506.com.
Green: Tampa Bay @ San Diego.
Red: NY Giants @ Pittsburgh.
Blue: Washington @ Arizona.
Gray: No game.