"I Would Have Won Me Five Championships With That Man Right There"
November 28th, 2016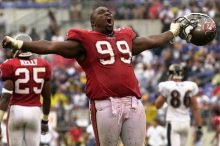 Joe truly cannot express how amped up Warren Sapp was after the Bucs' win yesterday.
What a sight it was to see him go at it with Jameis Winston's father after the game.
The sire of America's Quarterback and Sapp playfully jawed loud and proud in the Stadium on Dale Mabry Highway tunnel after the game. Jameis himself was there and seemed rather disinterested in Sapp's loudmouth antics.
But Joe was interested.
"I woulda won me five championships with that man right there," Sapp barked at Jameis' dad and pointing to Jameis.
Sapp was pulling in the elder Winston for selfies, and Jameis' mom, too.
As Joe wrote last night, Sapp said he never saw a Bucs team, even his Bucs teams, "choke out" a QB like Tampa Bay did to Russell Wilson last night.
Unlike Sapp, Mr. Derrick Brooks was wearing a suit and had a dignified smile on his face after the game in the bowels of the Den of Depression. Joe didn't talk to Brooks, but Brooks shared Joe's Twitter offering about how No. 55 must have enjoyed the Bucs' every-blade-of-grass mentality on defense.
The defense went old school yesterday in a huge way. And the team icons loved it and fully appreciated it.