Flawless Day For Cameron Brate
November 13th, 2016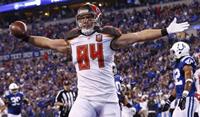 For a couple of weeks, Joe's been yelling for the Bucs to throw the ball more to Cameron Brate.
Simple logic: the guy catches what comes his way and he gets open just enough — and regularly.
Entering today's game, Brate's 28 catches ranked 15th in the NFL at the tight end position. And the Bucs had only thrown the rock his way 42 times.
Today, Brate hauled in seven balls on seven targets, a flawless afternoon for 84 yards and a touchdown.
His six TD catches lead the NFL for tight ends, based on Joe's quick 4 p.m. math.
Pretty damn impressive stuff from an undrafted tight end Jason Licht plucked off the street in 2014.
Dirk Koetter boasted all offseason about the undeniable and indescribable chemistry between Brate and America's Quarterback, Jameis Winston. He was on the mark.
Joe sincerely hopes Koetter continues to call Brate's number more often.
Stick with Joe for much more this afternoon from the happy Bucs locker room.