Penalty Bug Returned
November 3rd, 2016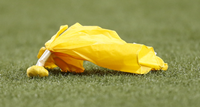 Perhaps the home turf makes the Bucs uneasy, or perhaps the Bucs learned a few things from the Raiders, but for some reason the penalty bug returned tonight in a huge way.
The Bucs finished with 11 penalties for 85 yards and at least 10 of those came in the first three quarters.
Several were of the dumb variety. Joe Hawley's face mask hold comes to mind, and he folllowed that up with a key holding call that negated a big game by Mike Evans when the game was still a game.
The penalties came in all shapes and sizes.
Dirk Koetter has said the Bucs' goal for every game is six or less. They had done a solid job this season, but they turned in a messy effort at the absolute worst time.