Atlanta 43, Buccaneers 28
November 3rd, 2016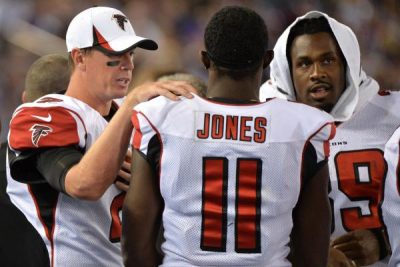 The Bucs were at home tonight. And you know what that means at the Den of Depression.
Tip your bartenders and waitresses, folks. They're the ones who are good to you. The Bucs, however, are not. Tampa Bay is now 0-4 at home and have lost 17 of 20 in Tampa.
It was a division game against the rival Falcons. Atlanta was traveling on short rest, and they managed to humiliate the Bucs on national television.
Where's the grit in these Bucs not named Mike Evans? C'mon!
Atlanta had 33 points on the board with 18 minutes to play. Matt Ryan looked like he was practicing against the Browns' scout team. Through three quarters, Ryan was 24-of-33 for 343 yards and four touchdowns.
The Bucs had a couple of sacks, but there was no consistency to the pass rush. Again.
Joe is so sick of the home losing. It's just not acceptable. The rest of the NFC is 34-21-1 combined at home this year. Think about that for a minute.
Paper or plastic?