Listen To Joe
November 3rd, 2016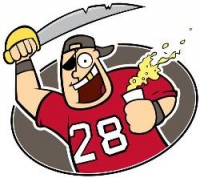 Yes, Joe was on ESPN Tallahassee radio yesterday talking Bucs with Jeff Cameron, he of "The Jeff Cameron Show."
Joe has long been a fan of Cameron, a St. Pete native who puts together damned good radio.
This afternoon, Joe spoke at length about the game tonight with the Dixie Chicks, the job security of Jan Stenerud and what the Bucs were (not) doing at the trade deadline.
It is a fun listen and Joe hopes you enjoy it.