Finger Pointed At Bucs Tackles
November 3rd, 2016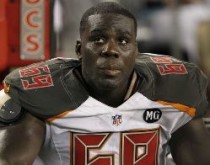 For the second consecutive season, America's Quarterback, Jameis Winston, is the most hit QB in the NFL.
A former stud NFL offensive linemen is pointing fingers.
With Tampa Bay playing tonight on Thursday Night Football, NFL Network is filled with Bucs chatter. One of those talking was former Browns and Giants center Shaun O'Hara, a three-time Pro Bowler and a Super Bowl champion.
You can see the video here.
O'Hara called out Bucs tackles Donovan Smith and Demar Dotson for allowing too many hurries. And don't go calling O'Hara a Bucs basher. He's quite level-headed and Joe's talked to him privately on a couple of occasions.
Joe believes those hits on Jameis are very much on Jameis' decisions and the playcaller, Dirk Koetter. Of course, the O-line gets its share of blame.
Perhaps all the hits finally have gotten to Jameis' head and affected his accuracy?