And Here's The Playoff Picture
November 27th, 2016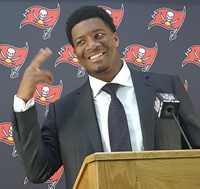 The Bucs are 6-5 entering December — and there's only one winning team left on the schedule.
In the NFC South, Atlanta absolutely punished Arizona this afternoon to up their record to 7-4, a game ahead of the Bucs. The Saints clobbered the Rams and are in third place at 5-6. Carolina (4-7) owns the cellar after choking late against Oakland.
Here are the Wild Card standings:
Giants (8-3)
Redskins (6-4-1)
Buccaneers (6-5) (5-3 conference record)
Vikings (6-5) (4-5 conference record)
Eagles (5-5) at Green Bay (4-6) on Monday night.
Saints (5-6)
The Bucs are in strong shape, obviously, but there's a lot of work to be done.
Joe still maintains the Bucs' best path to the playoffs lies in winning the division.