Buccaneers 14, Seahawks 5
November 27th, 2016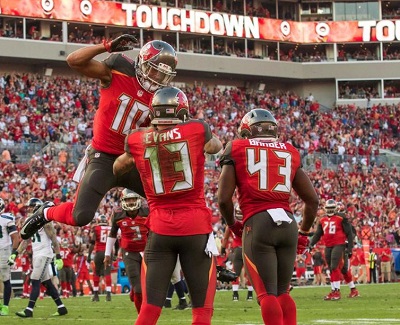 What a statement by the Buccaneers defense!
Holy crap!
Joe's feeling like it's 1997. What a dominant performance for your 6-5 — and now very relevant — Bucs.
Two drives into the third quarter and Russell Wilson was 5-for-14 for 33 yards. Unreal!
Drive after drive after drive the Bucs defense came up big. And what a moment it was for Alterraun Verner, whose father died Friday, to pick Wilson late in the first half. After getting tackled, Verner was mobbed by a majority of his teammates at midfield. Verner had other strong moments, too.
A sack and a half for Noah Spence, and he was factor in the run defense. A sack and a half, too, for Gerald McCoy.
It was simply a total effort on defense. Mike Smith deserves free beers and dinner all week across town.
Joe cannot overstate how great this defensive effort was.
On the offensive side of the ball, Mike Evans made the vaunted Seattle secondary look like Largo High School. Evans now has his third 1,000-yard season in the books.
Lot of heroes today for the Bucs, but make no mistake, America's Quarterback, Jameis Winston, stirs the drink. His newfound consistency and the power of his leadership is rubbing off.
Stick with Joe through the night from the happy Bucs locker room.