Conservative Koetter
November 5th, 2016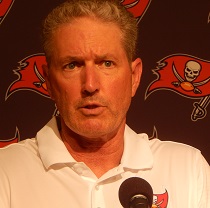 Dirk Koetter is building quite an NFL head coaching resumé. Joe might have to start calling him the Ted Cruz of coaching, the Rush Limbaugh of shotcallers.
Think about it for a moment.
On special teams, are the Bucs using Roberto Aguayo for the mortar kickoffs he specialized in at Florida State? Have the Bucs used any kind of trickery on special teams or gone all out to block any kicks or punts? Seeing anything different in the return game?
Let's go to the offense. Joe doesn't recall seeing any gadget plays coming out of Koetter's bag of tricks. Please correct Joe, if needed. Joe doesn't recall anything, other than a Charles Sims pass in training camp against the Jaguars.
Joe supposes throwing deep to Antone Smith against the Raiders might qualify, but that's a stretch.
At the halfway point of the season, Joe's simply noting a pattern.
Yes, Koetter took gutsy shots late in the first half of games early in the season, but he's gone turtle more often than not since then.
On defense, Mike Smith and Koetter keep letting his starting cornerbacks play every single snap — tired or not. Is it that much of a gamble to see what Josh Robinson can do, for example?
Koetter has been pretty darn conservative. Heck, on Thursday he was just scared to give the Falcons a 3rd-and-22 in the first half. So Koetter declined a 15-yard penalty so Atlanta could attempt an easy field goal.
Joe's not against conservative football, but it feels a little extreme through eight games.