Wednesday Training Camp Notes & Nuggets From Jacksonville
August 17th, 2016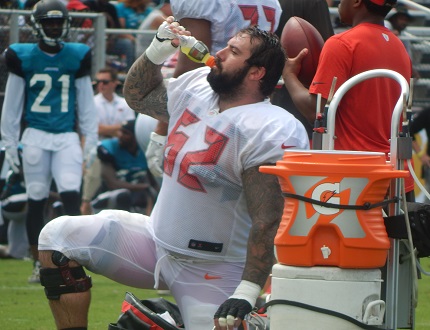 Hooray! The Bucs had fresh enemy bodies to crash into on the Jacksonville Jaguars practice fields today.
Joe made the road trip and has your need-to-know. Lots of it.
*You know it's a joint practice when punt return work has bite to it. Bucs punt team went head to head with the Jags' and vice versa, but with nobody hitting the actual returner. Bucs had one bad snap, and Dirk Koetter was front and center watching this session. Koetter isn't always dialed in to special teams.
*Charles Sims is back on the field and is seen having his ankle re-taped about 10 minutes into practice. Never fear, Sims looked healthy all through the day.
*Drill work! One-hand grab by K-Y hands Mike Evans. Great play, and wide receiver Andre Davis followed up with one of his own.
*DROP! Evans over the middle in drills, the start of sloppy individual stuff early.
*Kenny bell slips on an inside cut and gets yelled at by receivers coach/offensive coordinator Todd Monken.
*DROP! Russell Shepard.
*Bad throw Jameis.
*DROP! Jonathan Krause.
*Another bad throw by Jameis and another DROP! this time by Donteea Dye. Wake up Bucs!
*Ahhh, Bucs get a break and run into the "cool zone," a tented area with chilled seats and fans. Dirk Koetter barks at the team as they enter, "1-on-1s in five minutes, and then 9-on-7. Cool off now!" Koetter is so dead serious on keeping guys fresh.
*1-on-1s kick off. Lots going on while Bucs offensive players go against Jags players on one field, and vice versa on the other.
*Incomplete Jameis, followed by a nice hookup from No. 3 quarterback Ryan Griffin to Evan Spencer.
*Quick slant from Jameis to Adam Humphries, who was razor sharp through the day. Lots of chemistry evident between him and Jameis.
*Bell draws a pass interference call on Jags corner Demetrius McCray. Yes, there are officials calling everything all over the field. McCray came back with a nice breakup on Shepard. And Bell drew another flag against the Jags later in the session.
*Jags receiver Shane Wynn beats Hey Jude (Adjei-Barimah).
*Ex-Bucs 2010 second-round pick Arrelious Benn beats Keith Tandy.
*Alterraun Verner plays way off Tony Washington and is beat easily (shades of Lovieball).
*Jonathan Banks slips covering Wynn. Another rough day for Banks. (More on that later).
*11-on-11 time. Lavonte David stuffs Chris Ivory for a loss.
*Charles Sims had a nice cutback run, left to right, for three yards. Key there was Sims making a very sharp cut and looking healthy and quick. No signs of lingering injury.
*Blake Bortles rolls right and throws complete for 10 yards.
*Jameis hits Brandon Myers for 15 yards. Myers also is back healthy after a knee injury in the preseason opener. Interesting to see him running with the first team.
*Man, Jags backup QB Chad Henne had all day to throw against the Bucs' second-team defense.
*DROP! Rookie running back hopeful Russell Hansbrough from Mike Glennon.
*Overall, throughout many 11-on-11 sessions today, there was little feel on intensity. Just not the bone-cracking stuff you might have expected. Very tame. Joe's glad nobody got hurt, but there were no hits getting oohs and ahhs from the crowd of about 1,500 in attendance.
*1-on-1 pass rush time. Fun stuff, as Joe sucks down yet another water bottle in the stifling sun. No shade here, as Joe chats with ex-Jags great Mark Brunell on the sidelines.
*Jacquies Smith wins twice in a row against a Jags offensive lineman Kadeem Edwards, aka a Milk Carton and a Bucs fifth-round draft pick in 2014.
*Gerald McCoy manhandles A.J. Cann.
*Yes, there is lots of big beasts banging. Clinton McDonald's helmet gets ripped off.
*Donovan Smith struggles a bit, while Evan Smith wins versus Tyson Alualu. Joe Hawley is called for holding of DE Chris Smith. Evan Smith wins again. Gosder Cherilus gets bullrushed, and the mess of Bucs camp meat offensive tackles (not Cherilus) continue to struggle mightily in drills and on the field.
*11-on-11 again, with Jameis hitting Cameron Brate on a seam route with excellent pass protection. 18-yard gain. Jameis to V-Jax on a short, wide slant, but a great breakup by Prince Amukamara.
*Six-yard laser from Jameis to Humphries.
*Nice play by camp-meat rookie tight end Alan Cross, a diving, sacrifice-your-body pass block on a blitz.
*More beatings for the Bucs' third-team tackles.
*Jameis checks down to Luke Stocker. Jameis left complete to Sims. Jameis finds Humphries wide open nestled in the Jaguars' zone — 20 yards and a first down. More great protection by the O-line. Bucs look very precise on that succession.
*Catch of the day goes to Kenny Bell! A leaping contested catch between two defenders on a 40-yard bomb by Mike Glennon. Nice! The Kenny Bell Mob goes wild.
*Glennon screen is tipped. Lazy toss. C'mon, Glennon, you're way too tall for that.
*Roberto Aguayo goes 4-for-4 with the longest from 47 yards. However, one kick never went off because of a bad snap.
*Time for 2-on-3 pass rushing. Big-money Jags free agent Malik Jackson is no match for left guard Kevin Pamphile. Stoned! However, Jackson comes back and beats Hawley easily. Not Hawley's best day.
*Robert Ayers beasts former first-round pick Luke Joeckel. Next, Ayers and Noah Spence run a pass rush game and crash into each other. Think Three Stooges comedy.
*Alualu beats Pamphile, but it was awfully slow developing. Still, Pamphile has to hold up better.
*Malik Jackson is visibly frustrated by Donovan Smith. Great sign for the Bucs and Jameis' blind side.
*Gerald McCoy blows up rookie tackle Pearce Slater. No contest. Sort of like Joe and a Chinese buffet.
*Another beasting delivered by Ayers, this time from right DE.
*In 7-on-7 work, wide receiver Jonathan Krause draws a pass interference on Aaron Colvin, and Kenny Bell makes another diving grab. Strong day for Bell.
*11-on-11: Sims stuffed for no gain, while Bortles completes a five-yard pass on the adjacent field.
*Incomplete, Jameis to Brate.
*Pressure on Jameis and play blown dead.
*Vernon Hargreaves blitzes and play is blown dead after he gets near QB. Finally a flash from Hargreaves, who was beaten badly earlier by Rashad Greene. (See video on home page).
*INTERCEPTION! Glennon is picked off by safety Josh Evans. Bad throw.
*Peyton Barber with a nice cut.
*William Gholston tackles running back Joe Banyard and coaches yell, "Get up!" No tackling to the turf allowed.
*First team returns and it's a couple yards for Sims on the ground.
*Bucs go four-wide, Brandon Myers, Luke Stocker, Austin-Seferian Jenkins and Mike Evans, and then Sims splits as the fifth wideout. DROP! Evans at the 2 yard line. Right in his hands.
*Glennon to Seferian-Jenkins in traffic. Nice. He was hit at the 2 yard line but held on.
*Major Wright gets torched deep by veteran tight end Mercedes Lewis. Touchdown! Wright a step slow and a half-foot too short.
*Another INTERCEPTION! of Glennon. Ugly five-yard throw right into the defender's gut.
*Rookie camp meat linebacker Cassanova McKinzy gets burned while working with the first team. Touchdown. McKinzy looked real slow.
*Trick play! Jameis pitches right to Charles Sims, who pulls up and throws 20 yards to Luke Stocker in the end zone. Solid pass, but Stocker was double covered and can't come down with the rock.