More Brate?
November 1st, 2016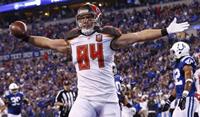 Once upon a time back in 2013, the Bucs had a receiving corps thinned out by injuries and turned to an undrafted rookie tight end to bail out their 23-year-old quarterback.
That tight end was Tim Wright, who caught 56 balls (five touchdowns) in eight starts that season.
Now, the Bucs have another decimated receiving corps. After Mike Evans, there's invisible Cecil Shorts on the outside with Russell Shepard, who Joe has no confidence in. Adam Humphries has emerged as a decent slot guy, but that's about it. No, Joe doesn't view Freddie Martino as viable.
The point here is Joe wants to see more of tight end Cameron Brate. He's got a lot of Tim Wright in him.
With the Bucs, Wright caught most of what Mike Glennon threw his way, and Brate is the same way with America's Quarterback, Jameis Winston.
Brate already has 23 catches this season with three TDs, his exact totals from 2015. He also has caught 64 percent of the balls thrown his way, which is pretty solid. Last year, he grabbed 76.7 percent of throws targeted at him, a stunning number.
We've all heard Dirk Koetter talk about how Brate and Jameis have strong chemistry. So with Luke Stocker now back to absorb the load of blocking tight end, how bout more action for Brate?
Jameis threw his way five times against Oakland. Joe would be happy to see that number nearly double. Brate sure seems like Jameis' second-best option.