Loads Of Bucs-Bears Tickets Available
November 11th, 2016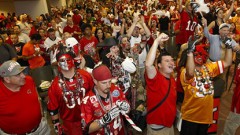 Despite what you read from the Tampa Bay Times months ago, the Bucs-Bears game in Tampa on Sunday did not sell out at Ticketmaster.com.
In fact, standard tickets are available in more than 50 sections — on all levels of the stadium.
Plus, there are official Ticketmaster resale tickets available, and loads of tickets via StubHub.com and other secondary-market avenues. As of 9:30 a.m., 300 Level seats on StubHub are going for just under $50 each, a modest markup.
Support your Bucs and keep Dirk Koetter from the "demoralizing" sight of a sea of Bears jerseys flooding the lower bowl.