"Resolve" Scrutinized Again
October 19th, 2016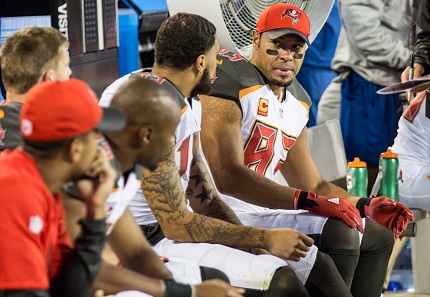 A truly bizarre season for Vincent Jackson got weirder Monday night, less than 24 hours before he was placed on injured reserve with an ACL injury.
Remember when, after opening day, new wide receivers coach/offensive coordinator Todd Monken called out Jackson saying he had to play better? And remember the following week, when Monken praised Jackson for "playing harder?"
Those felt like big red flags considering Jackson is a team captain, an established veteran and a guy known for his work ethic.
Jackson struggled through the first month of the season and, occasionally, appeared disinterested on the field.
On Monday night, Monken joined the Buccaneers Radio Network and praised Jackson for getting deep into game plans, and for his blocking and mentoring. He also raved about Jackson's unique ability to translate meeting-room learning instantly on the practice field. Monken said most Bucs receivers can't do that.
Monken added that Jackson's play against the Panthers was his best game of the year, but then Monken qualified that with an odd choice of words.
"It didn't show up in terms of catches, but in terms of resolve," Monken said. "In terms of route running, in terms of play speed, and I thought that built in practice leading up to that game. And I think that showed. Again, to the fan, you might not see it, but it was definitely his best game."
Joe is focusing on Monken using the word "resolve." The dictionary defines resolve as "a strong determination to do something." So why exactly was Jackson's resolve such an issue that his coach keeps talking about it publicly?
Joe doesn't recall Monken referencing effort with any negative undertones for any of his other players.
Giving V-Jax the benefit of the doubt, perhaps his knee injuries last year weren't 100 percent healed entering this season?
Regardless, this mystery appears to buried on injured reserve with V-Jax.