In Dye Bucs Trust
October 19th, 2016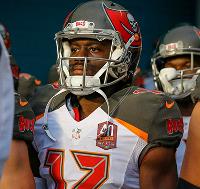 Joe warned yesterday that a mental health holiday would be needed at JoeBucsFan.com world headquarters if Donteea Dye was promoted from the practice squad to replace injured Vincent Jackson.
At this moment, Joe is scraping the bottom of the Valium bottle for crumbs. The Bucs promoted Dye this morning.
Dye, a second-year player and a guy Joe considers CFL talent, appeared primed to win the kick returner role and a No. 5 receiver job in preseason before he got hurt. But Dye was waived injured, and the Bucs plucked him back off the street early this week for their practice squad.
Last year, Dye was a member of the Bucs' miracle rookie-receiver twosome. He and Adam Humphries, both undrafted, stepped into prominent roles after not making the opening-day roster.
Dye made five starts thanks to injuries to Vincent Jackson. He caught 11 balls on a whopping 30 targets. Joe blamed bad hands and questionable route running.
Hopefully, Cecil Shorts' hamstring is good to go. He did practice Monday, and Joe is hoping Russell Shepard is ready to reach new heights.
Joe just can't stomach a Dye return to active duty. Not today.