Koetter & The 49ers' Head Coaching Job
October 20th, 2016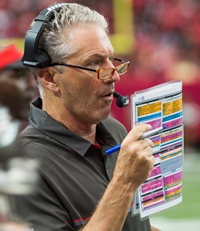 Joe has heard far to many bitter Bucs fans and Lovie Smith apologists scream "baloney" at the notion Dirk Koetter was nearly about to bolt Tampa Bay in January for a head coaching gig somewhere else.
Silliness! Hall of Fame former 49ers owner Eddie DeBartolo, who lives in Tampa, had his eye on Koetter and was advising his nephew Jed York on their head-coaching search.
Koetter was interviewed quickly for the San Francisco job after the close of the 2015 season, and he's still remembered as a finalist now.
Matt Maiocco, of CSN Bay Area, wrote about that today. And Koetter was asked about how his pre-interview knowledge of the Niners might apply to Sunday's game.
Koetter said the research he did on the organization and the 49ers' roster gave him no significant head start as he began to prepare the Buccaneers (2-3) for Sunday's game.

"Just a little on that, but nothing that really carries over," Koetter said. "The fact we had a bye last week, we got to spend some extra time on the 49ers. As far as their offense goes, we played coach Kelly last year when he was at Philly. You can see some of the carryover there for the guys who were here last year. But we have a new defensive staff and we're playing a different defense. So the fact we had a bye, a little extra. But that's just about it."
Koetter and the Niners are old news, but Koetter's a competitive guy. Joe's certain he has a little extra juice to him, eager to beat the guys who didn't hire him.