"He's Patient"
October 20th, 2016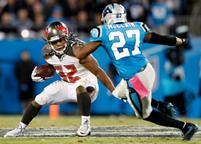 Players get all jacked up for Monday Night Football and other prime-time action.
It's easy to find players forcing things and losing their cool under the lights.
Not Jacquizz Rodgers, currently the Bucs' No. 1 running back, who took a career high handoffs last week.
Guard Ali Marpet was on the Buccaneers Radio Network this week trying to explain what makes Rodgers special. Marpet's choice was mental.
"He's patient. He knew what to hit and when to hit it," Marpet said. "And there were actually some plays that we could have broke for some longer runs. But yeah, I think that he's a patient back, and it paid off."
The more Joe looks back and Rodgers' 30 carries for 101 yards, the more Joe is impressed. The guy is 5-foot-6 and has never been a featured back in the NFL.
Rodgers could have been all amped up for the spotlight, but instead, he was focused and consistent. Marpet is right. No Charles Sims dancing and confusion with Rodgers.
Marpet added that he can't wait for the offensive line and Rodgers to get back on the field Sunday to keep their identity flowing. "Bring the hammer and you run the ball," Marpet said.